Nationalmuseum has acquired an exceptional floral still life by the French artist Antoine Berjon, who in 1800 was one of the true stars of the French art world. The painting complements Nationalmuseum's collections, which until now had lacked examples of this type of flower painting, which was an immensely popular genre around the turn of the 19th century.
Antoine Berjon (1754–1843) began his artistic career by drawing patterns for silk manufacturers in his hometown of Lyon. This activity required in-depth botanical knowledge and a skilled draughtsman's hand to translate such expertise into an image. It was thus a natural step and no great leap for the artist to transition to oil painting. In 1794 Berjon settled in Paris, where flower painting experienced a renaissance after a number of Dutch artists who had moved there devoted themselves to it with new energy. The most important of these was Gerard van Spaendonck (1746–1822), Professor of Flower Painting at the Paris Botanical Garden. Like this Dutch artist, Berjon also worked as a miniature painter. In both their cases, the techniques used in miniature painting contributed to the renewal of flower painting. Compared to the Dutch still lifes of the 17th century, the motifs are painted with thinly applied paint and give a lighter, more decorative impression. In addition, the often intricate symbolism of the 17th century has given way to a more pronounced pursuit of beautiful illusionism, mixed with a dash of geometric abstraction.
Nationalmuseum's newly acquired painting is one of Berjon's largest in a relatively limited œuvre. This kind of painting was time consuming and exacting, which is why the size and degree of illusionism corresponded with the price of the finished painting. There were many flower painters, and the quality of their work was as varied as in any market. In the painting you can see roses, peonies, lilies, tulips and other plants in various stages of blossoming. On the table is a fruit basket overflowing with peaches, pears and grapes. On one of the roses is a bumblebee, which can perhaps be interpreted as a reference to the still lifes of the 17th century. But while the insects – beetles and flies – in the latter often symbolise decay, in this case the bumblebee stands for the reproduction of plants.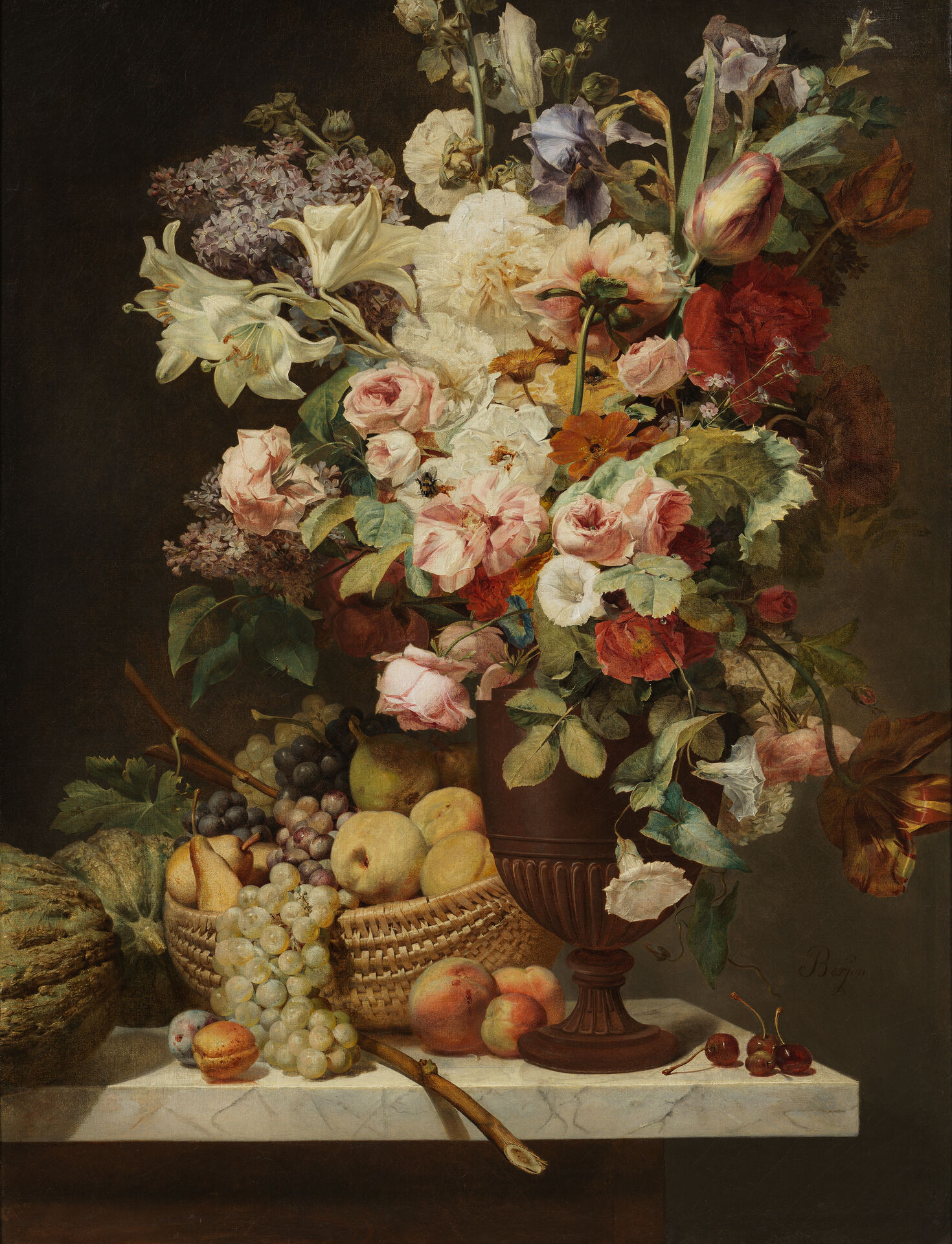 Antoine Berjon, Still Life with Flower Arrangement and Fruit Basket, circa 1800. Photo: Cecilia Heisser/Nationalmuseum.
Berjon eventually returned to Lyon, where he became Professor of Flower Design at the École des Beaux-Arts, which was closely affiliated with the city's silk industry. He became the most sought-after pattern designer in Lyon, but eventually found himself in conflict with the school's management and was forced to resign. For the remaining 20 years of his life, he continued to create and teach, but from a rather isolated position.
"We never thought it would be possible to acquire a painting like this. There are not very many of them, for the simple reason that each painting demanded a huge amount of work by the artist. Berjon's still life was one of the few significant works left on the market, and its high quality allows us to convey why flower paintings were highly valued around the turn of the 19th century," says Carl-Johan Olsson, Curator at Nationalmuseum.
Nationalmuseum receives no state funds with which to acquire design, applied art and artwork; instead the collections are enriched through donations and gifts from private foundations and trusts. The acquisition has been made possible with donation funds from the Wiros Foundation.