An 1851 silver tankard in the shape of a tree stump has been donated to the Nationalmuseum collection. It exemplifies the naturalistic style popular in the 19th century that drew inspiration and motifs from the natural world.

The tankard was made in 1851, the year of the Great Exhibition in London, which was a showcase for the very latest in art and technology from around the world. The Swedish silversmith who created the piece, Pehr Fredrik Palmgren (1820–78), was greatly inspired by contemporary English silver design, as is apparent in a number of his works. This piece takes the form of a realistic tree stump with branches and foliage. An owl on a twig sits atop the lid. The tankard is almost 30 centimetres tall and weighs over two kilograms. The inside is gilded, and the outside bears the inscription TILL J.W. BERGSTRÖM AF SWENSKA INDUSTRI-IDKARE MDCCCLI ("to J.W. Bergström from Swedish industrialists, 1851").
Johan Wilhelm Bergström (1812–81) was given the tankard in recognition of his work in organising the Swedish presence at the Great Exhibition in London. Bergström, an industrialist, later served on the jury for the 1866 Stockholm Exhibition. He had run a glass grinding works since 1833 and a mechanical workshop in Stockholm since 1839, which supplied the first moulds when Reijmyre glassworks became the first Swedish manufacturer of pressed glass in the 1830s. In the 1840s, Bergström also worked as a photographer or daguerreotypist, and several examples of his work can be found in the Nationalmuseum collections.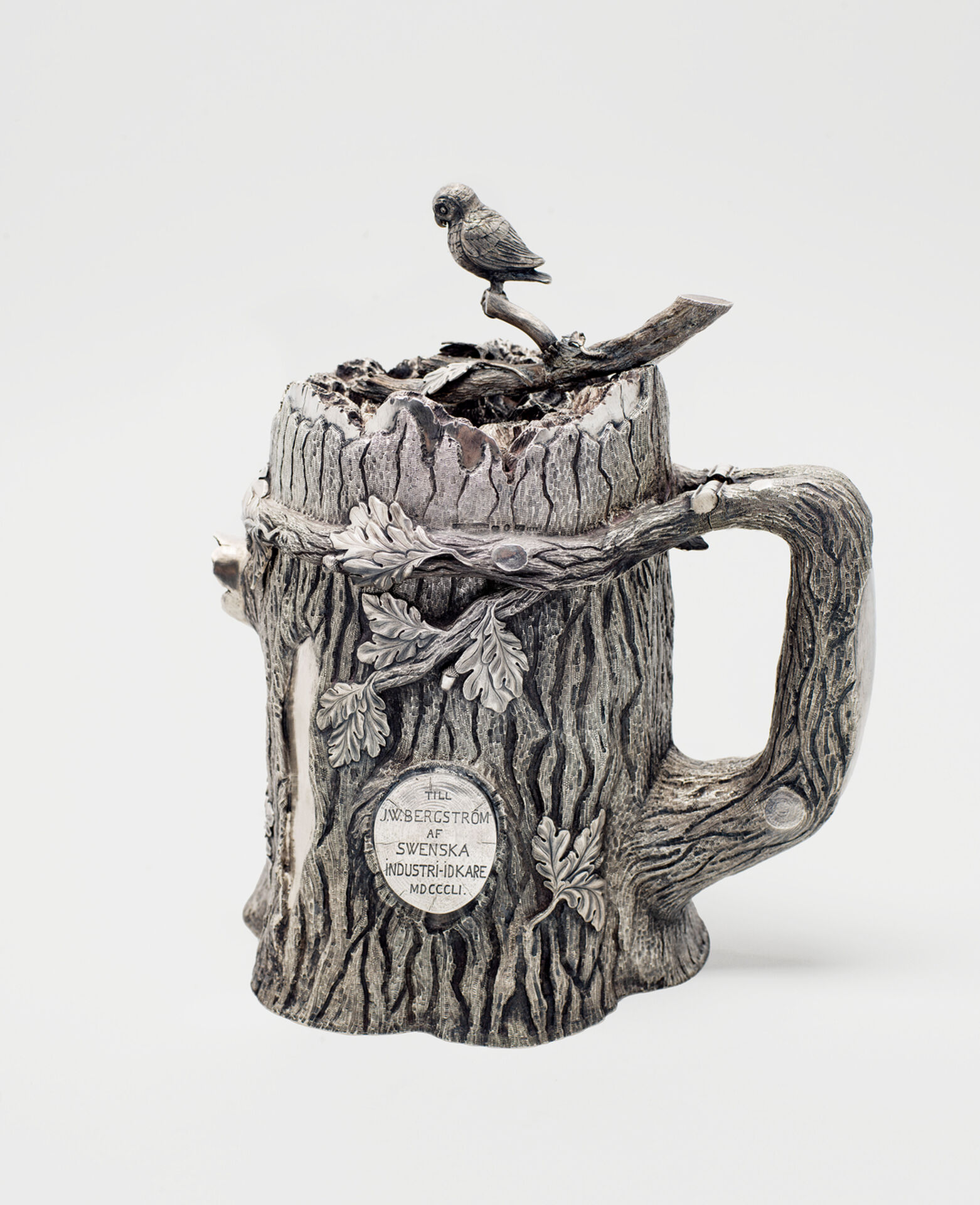 Pehr Fredrik Palmgren, Tankard, 1851. Silver. NMK 151/2022. Photo: Linn Ahlgren/Nationalmuseum
Micael Ernstell, curator of applied art at Nationalmuseum, said:
"The design of this tankard is exciting and rather unusual in a Swedish context. Produced in 1851, it features an aesthetic directly inspired by the ideals of the Great Exhibition that took place in London that year."
The tankard is on display in Nationalmuseum's The Joy of Giving exhibition, which spotlights some major donations of precious-metal pieces received by the museum in recent decades.
Nationalmuseum receives no state funds with which to acquire design, applied art and artwork; instead the collections are enriched through donations and gifts from private foundations and trusts. This acquisition was made possible by the generosity of Märta Christina and Magnus Vahlquist, who kindly donated funding through the Friends of Nationalmuseum.
Inventory number
Pehr Fredrik Palmgren, Tankard, 1851. Silver. NMK 151/2022.