Nationalmuseum has acquired a portrait drawing of the two-year-old Carl von Nutzhorn, created by the Danish Golden Age artist Christen Købke in July 1830. Depictions of children are considered to be among Købke's most important works and his pencil portraits are complete works of art in their own right, comparable to any oil painting. The image of the little Carl von Nutzhorn is not only unusually intimate, but is also one of the artist's earliest known commissioned portraits of its kind.

In the early 1830s, Christen Købke (1810–1848) attempted to establish himself as a portrait painter, probably to secure income. But although Købke had hoped for a flurry of orders, he was initially forced to settle for painting relatives and family members. He had a great many of them, but this did not make him a wealthy man because they were not in the habit of paying. Instead, like the Frenchman Jean Auguste Dominique Ingres, he discovered that he could execute portraits in pencil, which was a less time-consuming medium than oil paint. Like Ingres, he would become a true virtuoso of the genre.
One of the people who helped Købke to connect with various clients early on was the Reverend Nicolai Laurentius Feilberg, the artist's future brother-in-law. Feilberg's sister Charlotte Catherine had married the doctor Ditlev Andersen von Nutzhorn in early September 1830. It must have been in connection with this that Købke came to draw from Nutzhorn's scarcely two-year-old stepbrother, Carl. At the end of July, the artist travelled to Aarhus to meet his brother Valdemar. Perhaps this coincided with the commission from the von Nutzhorn family, who lived in nearby Fredericia. The result was a detailed and penetrating portrait. Here, the artist has rendered the child's face using a delicate gradation of small, short cross-hatches. The curly hair has been sculpted with undulating lines, while only a few schematic contours hint at the boy's attire.
It is an extremely well-balanced detail of the portrait of a thoughtful but certainly lively two-year-old. Naturally, this raises the question of whether the artist carried out the entire production in front of a living model or whether the work was based on pre-studies. Here we can lean on another famous case, Købke's portrait of the four-year-old Sophie Clausen, which was created six years later and based on preparatory sketches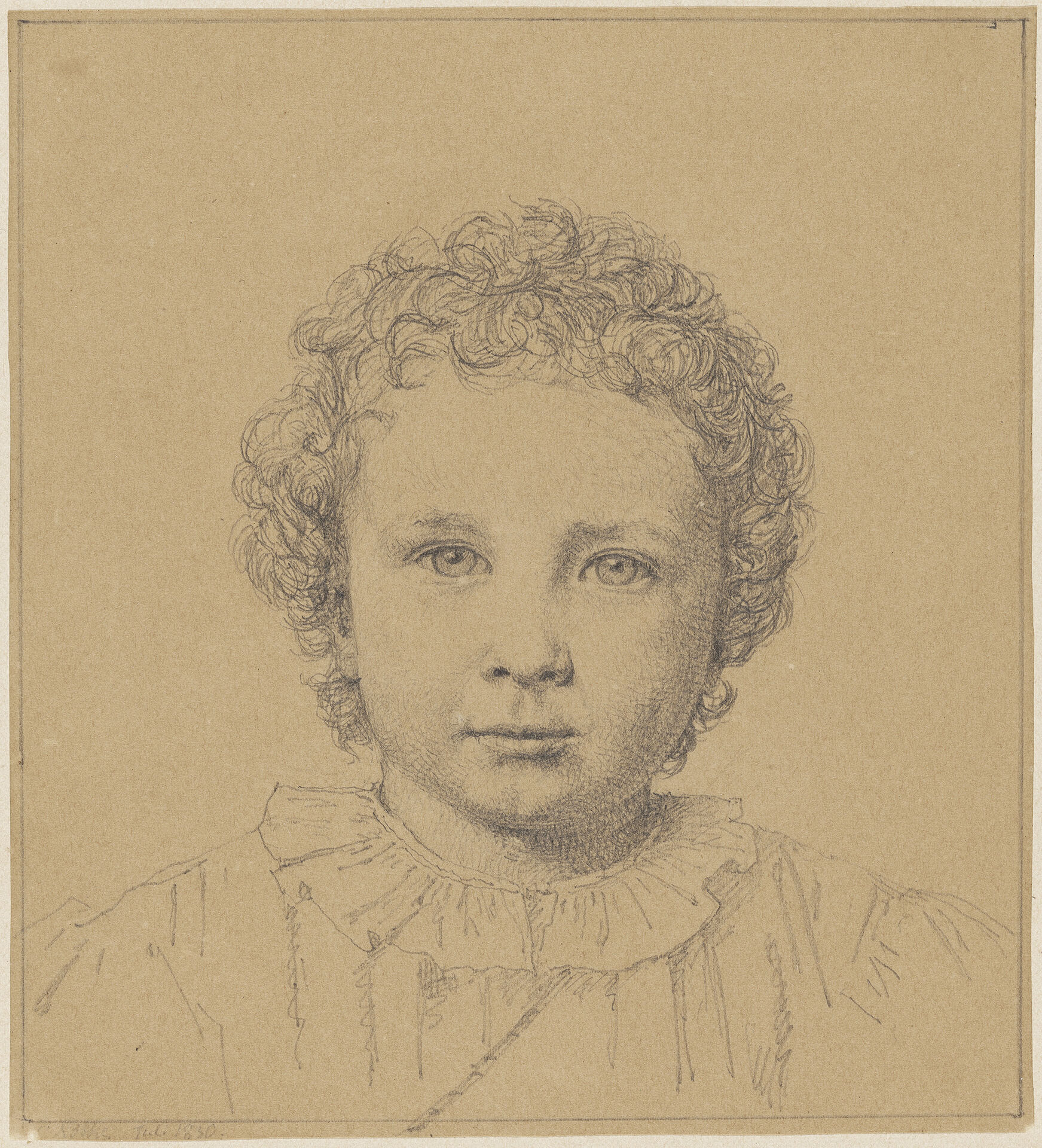 Christen Købke, Carl von Nutzhorn, 1830. Photo: Cecilia Heisser/Nationalmuseum.
"Købke surely started from preparatory sketcheswhen he drew little Carl von Nutzhorn. That means that his model didn't need to be present while he was completing the final portrait. Despite this, Købke has magically managed to capture the personality of a two-year-old with a strong, penetrating gaze. Perhaps that is why we perceive the portrait as unusually monumental despite its small, intimate format - just 16 x 14.5 cm," says Magnus Olausson, Director of Collections at Nationalmuseum.
The image of Carl von Nutzhorn (1828–1899), who would one day serve as the Danish Minister of the Interior and of Justice, may well be one of Christen Købke's earliest commissioned pencil portraits. Here, the artist was testing out all the characteristics to which he later returned in numerous depictions of children – a fixed gaze, a frontal composition and a closed form. Købke's friend and colleague Lorenz Frølich opined that it was in these portraits that the artist achieved the greatest measure of truth, through his ability to portray the models in an unusually empathetic manner.
Nationalmuseum receives no state funds with which to acquire design, applied art and artwork; instead the collections are enriched through donations and gifts from private foundations and trusts. The acquisition has been made possible by the generous support of the Sophia Giesecke Foundation.
Inventory number:
Christen Købke, Carl [Ludvig Vilhelm Rømer] von Nutzhorn (1828–1899), County Governor of Vejle County, Danish Minister of the Interior and of Justice, 1830. Pencil on paper. NMH 12/2021.