Susanna Pettersson, Director General, discusses the role of culture and museums in the development of a sustainable society.
Sustainability is a hot topic these days. When we sort garbage and when we recycle, when we buy new clothes or refrain from doing so, when we dream of travelling in a post-pandemic world, or when we choose an electricity company. Companies and organisations are investing in new and more environmentally friendly solutions. Politicians are taking important decisions aimed at creating a sustainable future. The UN's Agenda 2030 defines a list of global sustainable development goals. But the cultural sector and the museum industry also contribute to sustainability in several areas.
Agenda 2030 covers 17 integrated areas, all of which contribute to various dimensions of sustainable development: environmental sustainability, social sustainability and economic sustainability. Sweden wants to be a leader in the implementation of the agenda. Cheerfully coloured squares illustrate areas such as good health and well-being, peaceful and inclusive societies, universal access to a good education, gender equality, and sustainable cities and communities – to name just a few. Yet not a single word is devoted to culture.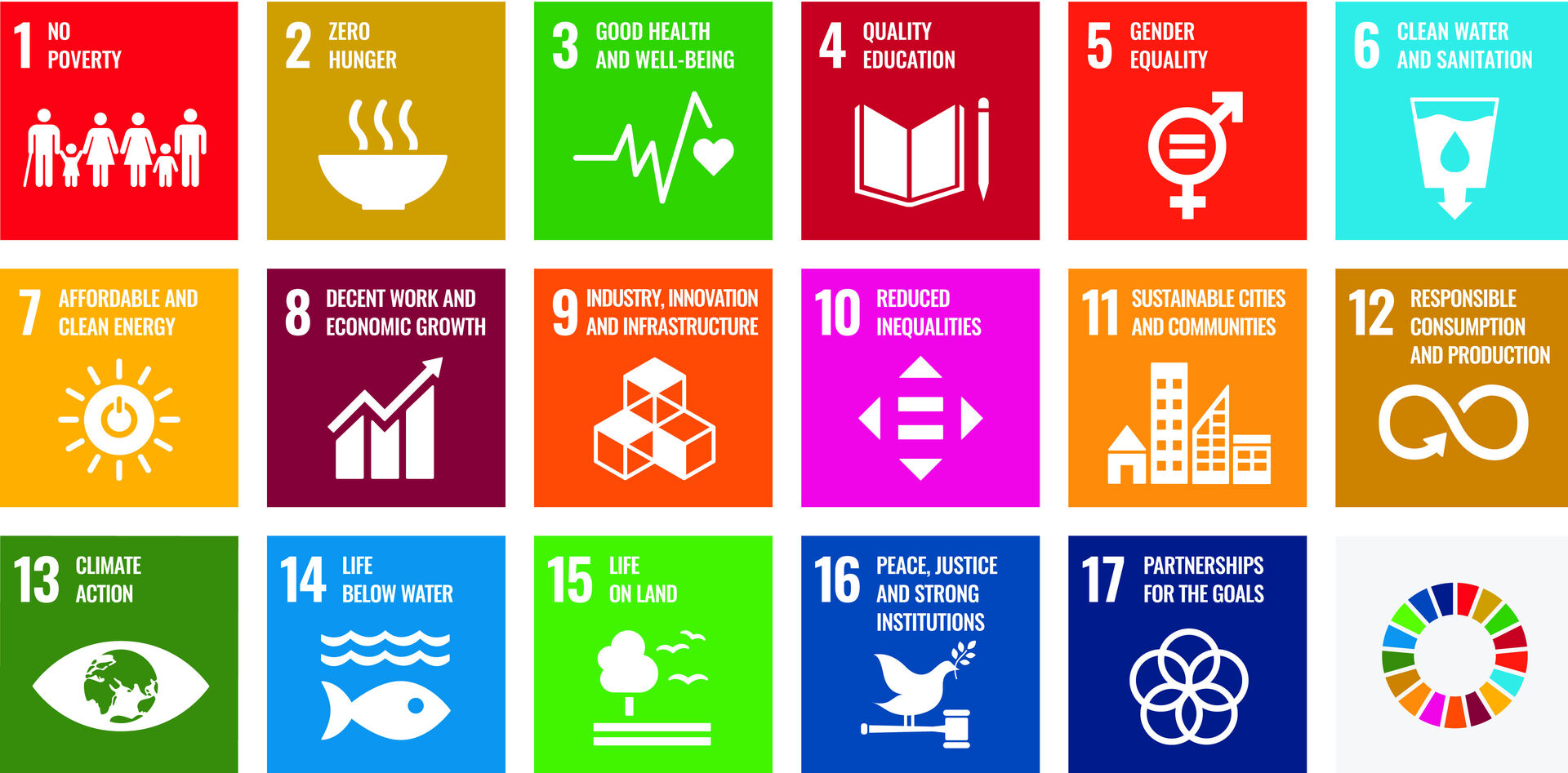 The Sustainable Development Goals according to Agenda 2030.
Secretary-General Anna-Karin Johansson of the Swedish National Commission for UNESCO says that although cultural goals are not in themselves included in Agenda 2030, culture comes into play in almost every area. The Agenda's cultural indicators measure the environment and resilience, inclusion and participation, knowledge and abilities, and prosperity and livelihood. These areas are connected to the sustainable management of cultural heritage, access to culture, public funding of culture and job opportunities and more. And we know that culture affects almost everything we do. For example, consider the communication between people, our values, or concrete measures such as how we build new neighbourhoods or houses. The ways in which we use culture in teaching curricula and provide access to the building blocks of our own identity.
Museums around the world are working intensively with the issue of sustainability. Some are appointing or hiring sustainability officers – people with special responsibility for sustainability, some are using solar panels to produce their own electricity, and others are investing in better and more environmentally friendly infrastructures. But how much do we know about this subject? And what are the most common questions? Although it is highly topical, the theme of sustainability is not new. Museums began to define sustainable ways of working as early as the early 2000s. Tools and models were created so that museums could develop more sustainable routines and expand their electricity, cooling, heating and water supply options. The activities of museums are premises-intensive, and one must also be aware of the consequences of this. Reducing the heating temperature by just one degree Celsius, can have a significant impact on an annual basis.
Yet much has happened since these early inroads. Museums now have designed guidelines for their environmental work and have created effective follow-up and evaluation methods, reports and measurement systems. Campaigns, podcasts, and publications inspire people to aspire to even loftier sustainability goals. Colleagues share good examples, both nationally and internationally. Staff training is an important part of this. For example, The Swedish Museums have developed a training programme for all interested employees of its member museums. Many museums also arrange internal training courses, just as we have done at Nationalmuseum. But there is still much to be done.
Sustainability is part of everything we do. Nationalmuseum uses its rich collections as a starting point for most of its own exhibition projects and the larger exhibitions are produced in a manner that allows them to be presented in several different locations. When planning an exhibition, we examine sustainable material solutions and consider how we can reuse scenography elements. Museums are also developing new ways to reduce their travel tied to art shipments with the help of digital couriers. Planning meetings have been moved to digital meeting rooms, and this change will persist after the pandemic. Sustainability considerations are also evident in the selection of items in the museum shops and in the menus of our restaurants. In short, many efforts are underway and it is important that we get better at sharing what's going on behind the scenes.
When it comes to museums and the culture sector, the most common issues relate to acquisitions and exhibition production. One might think that the large collections already have enough art and objects. That there is no need to keep collecting. Or that there are already so many exhibitions in the world, that perhaps a lesser number would suffice? These are big questions, and the answers are both philosophical and concrete. To collect is to build a cultural heritage for both our current generation and future ones - we can neither pause nor cease this endeavour. It is a tradition as old as humanity. To present collections and exhibitions, on site and digitally, to research and publish, is to make cultural heritage accessible to everyone. And that is precisely our mission.
When discussing sustainability and museums, we can list these key points for the industry's process:
plan
implement
follow up
learn from mistakes
develop
recount what has been done
These are simple and concrete steps. Sustainability must be part of routine planning, just like when we implement procurements or compare prices. Our actions must be consistent with our philosophy; in other words, "walk the talk – do as you say". Whatever we do, we must be able to tell others about it. Otherwise, no one will know how much energy we have saved, that we reuse, or that we work with digital couriers and drive electric cars. I can also personally promise that for routine meetings in another country or city, from now on Teams or Zoom will have to suffice.

The text is based on Sustainability – what is it? Nationalmuseum's thematic discussion on 21 April 2021.
////Susanna Pettersson, Director General, Nationalmuseum