April 2020
I have worked in museums almost my entire adult life, researched museum history, written books and articles about museums and their future, taught students, acted as supervisor to PhD students. I thought that I actually have pretty good track of different scenarios in the culture industry. What I didn't know was that one day I would close the museum because of a pandemic. A black swan that took the entire world by surprise and brought it to its knees.
Nationalmuseum closed its doors on March 20 due to covid-19. It was a decision that was necessary and that included most state museums in Stockholm. When the pandemic is a fact, there are no other options.
The decision generated various emotions and questions. Sadness to begin with. Sadness over the fact that the art and design are now behind closed doors...the exhibitions that we have been working on for several years that now cannot be shown... guided tours, programmes and events that have been cancelled. But also pride that museums are all in the same boat in the fighting against spreading of the virus. Pride in our responsibility to the community.
As an immediate reaction, I got questions and comments about the impending economic crisis. How are we going to manage? But the majority of the questions were about the role of museums in society. Why it is important that we have safe and democratic places where you can gather even in strange and unusual times? Places that provide comfort and help brighten our spirits, inspire and provide insight. Places that challenge and stimulate us. And that's the way it is. Museums are the barometer of our society. When the museums close, it is a signal that things are really bad. We are used to museums trying to keep their doors open even in times of war.
With covid-19, it's different. People ought not to gather in groups. But that doesn't mean that culture has disappeared from our daily lives, just about the opposite. Culture plays a key role, no matter where we look. It is our way of communicating and finding our own place in the world. It is therefore not at all astonishing that social media is full of different features, from high to low. Choirs that create amazing music, each member from their own home, small, joyful efforts such as Anthony Hopkins playing the piano in quarantine with his cat... but also black humour and jokes about toilet paper and the like. Social media builds a sense of community, helping us get through these exceptional days, weeks and months. It brings me a sense of security to be able to see artists at work in their studios. Or what friends and colleagues are reading in their spare time.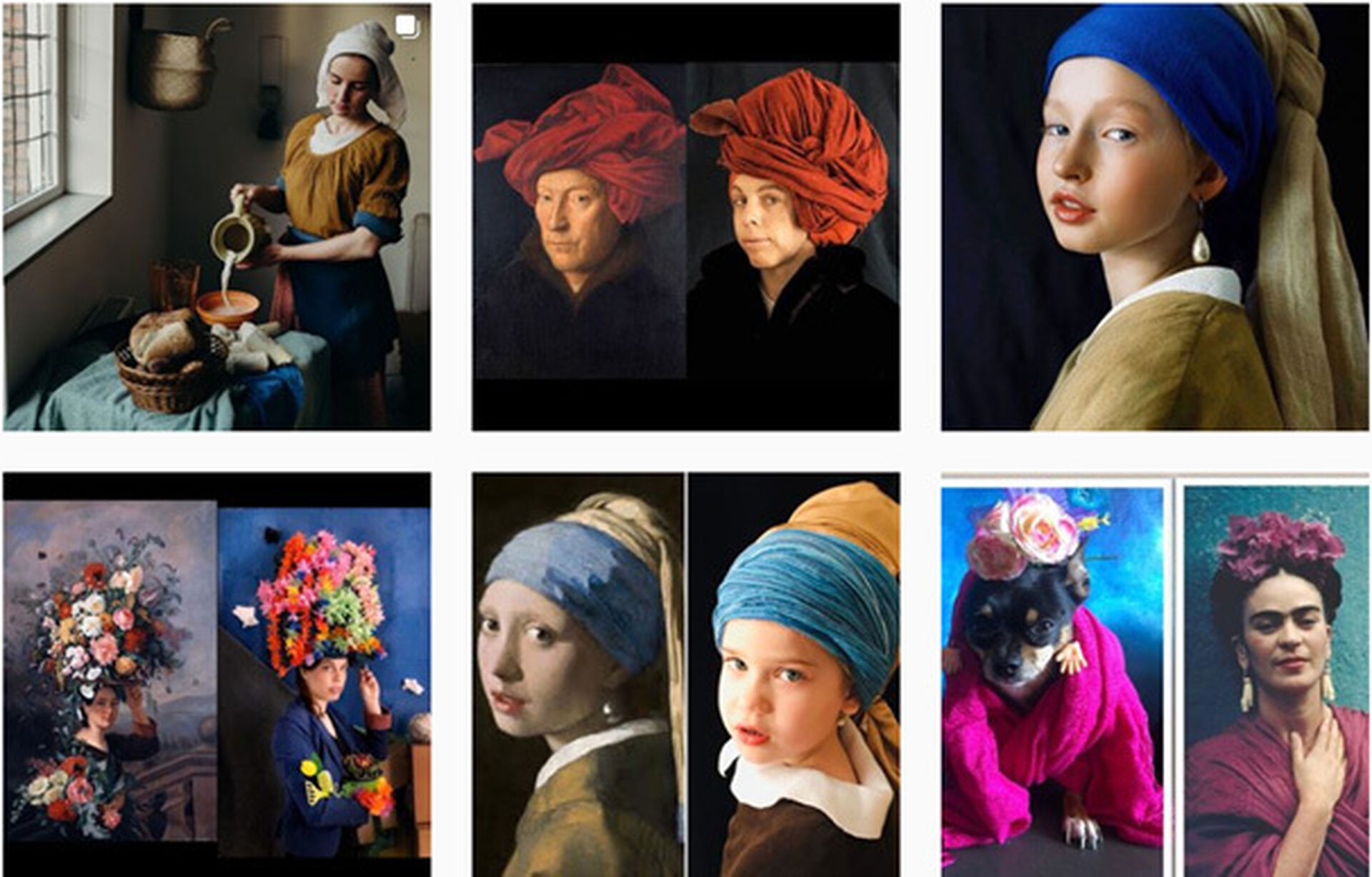 Images from #tussenkunstenquarantaine on Instagram
One of my favourites has become #tussenkunstenquarantaine on Instagram You select your favourite work of art from the world's museum collections and pose in the same position and wearing similar clothes. You quickly realise which are the most popular works of art... Vermeer van Delft's famous paintings, Frida Kahlo's self-portrait and René Magritte's surrealist works, to name a few examples. People have used their imagination to recreate complicated hairdos with toilet paper (for volume) or grapes (for curls). In many cases, traditional gender roles have also been changed.
Of course, museums produce content for all the people no longer able to enter the exhibition galleries. The digital presence of museums has multiplied almost immediately. In Sweden, Moderna Museet introduced sofa tours. The Rijksmuseum in Amsterdam publishes video footage #rijksmuseumfromhome where museum employees talk about objects and works of art in their field of knowledge. For our part Nationalmuseum is, for instance, posting newly produced short films, recalling images found in the collection database online and arranging curatorial meetings. Our experts also have in their own accounts that are worth following: @european.portrait.miniatures (Cecilia Rönnerstam, conservator specialising in miniature painting), @sculptomania (Linda Hinners, curator specialising in sculpture), @carlmartinolin (Martin Olin, head of research who takes us from the 16th century to the 19th century) and @carl_johan_olsson (curator who works mostly on 19th century visual art), to name a few examples. The desire to open new digital doors is strong and can, at best, lead to something good and valuable that will change the way we work with cultural heritage.
The demand for digital content is enormous. Just as great is the joy that we will feel when we are, one day, able to reopen our doors again – when it is safe and the worst of covid-19 is over. Culture is our backbone. And even more important, it is our right. Museums create important spaces in which to gather... for pleasure, mutual benefit and joy. When the museums are able to reopen, it will be a signal that the toughest times are behind us. Until then, we will need to support each other and appreciate every day.
/Susanna Pettersson, Director General, Nationalmuseum