Nationalmuseum has acquired a decorative urn produced at the Gustavsberg Porcelain Factory with a motif depicting Mother Svea rewarding Swedish industry. After being sold at an auction in London, it has now been possible to return the urn to Sweden. The acquisition is a generous gift from the Friends of the Nationalmuseum, presented in honour of the reopening of the Gustavsberg Porcelain Museum.

The decorative urn and its motif were designed by the artist Johan Fredrik Höckert (1826–1866) for the General Industrial Exposition of Stockholm, held in Kungsträdgården in 1866, at which the Gustavsberg Porcelain Factory showcased its prolific production line. The following year, the urns were presented at the World's Fair in Paris, and were subsequently sold to a private owner. The version of these decorative urns that has now been acquired was produced for the third Paris World's Fair of 1878. The urn is 122 centimetres high and its splendid decorative elements were executed by the porcelain painter Franz Meder.
"The urn was produced in two versions, which were given pride of place at the exposition and used to demonstrate what Gustavsberg Porcelain Factory was able to do and to attract new orders. At the Stockholm Exposition of 1866, the factory was also awarded a silver medal for its first-rate products and affordable prices. Several of the unique objects that the factory primarily produced for sale have been missing from the museum's collection, and the urn we have now acquired is a fine example of these items," says Micael Ernstell, Curator of Applied Art and Design at Nationalmuseum.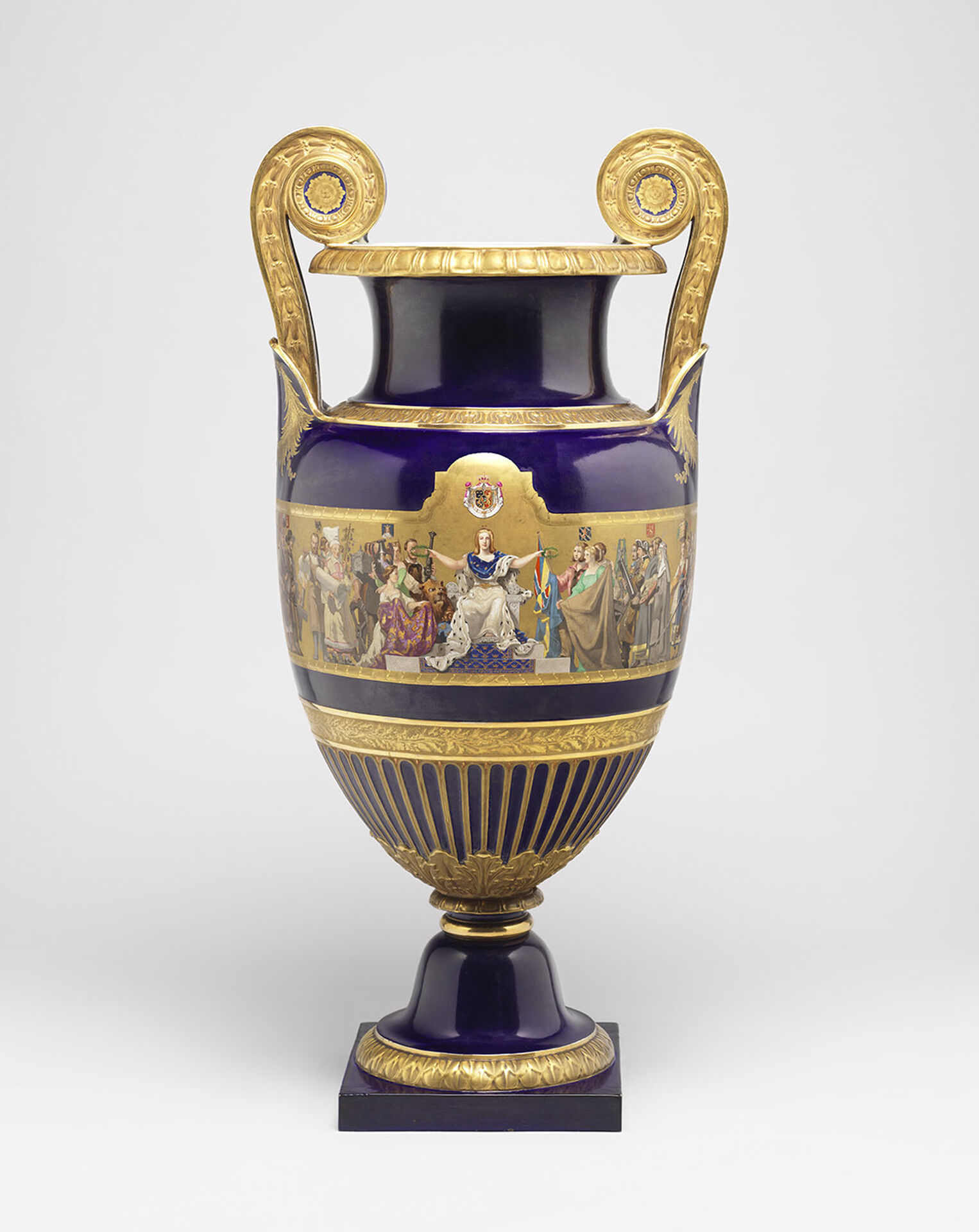 Johan Fredrik Höckert, Vase in memory of the Industries of Sweden, 1878.
The motif depicts Mother Svea rewarding Swedish industry with laurel wreaths. Under the Stockholm coat of arms a showpiece vase represents Gustavsberg. Next to it is a display of mining and metalworking in Bergslagen. Dalarna has crafts, clocks and Älvdalen porphyry. Northern provinces offer Sámi crafts, forests, hunting and linen. The west coast has fishing and textiles. Småland makes glass and matches, Skåne grows crops and Östergötland has bobbin lace from Vadstena.
In 2000 the Swedish Cooperative Union (KF) donated the entire collection of the Gustavsberg Porcelain Factory to Nationalmuseum. The collection includes examples of most of what the factory had produced prior to its closure in 1993. These 45,000 items include household porcelain, objets d'art, sanitary ware and examples of plastic and enamel items produced by the factory.
Nationalmuseum receives no state funding with which to acquire design, applied art and artwork; instead the collections are enriched through donations and gifts from private foundations and funds. The acquisition is a generous gift from the Friends of the Nationalmuseum.
Inventory number:
Johan Fredrik Höckert, Vase in memory of the Industries of Sweden, 1878. NMK 133/2019.