Treasures from the Art Library
Simplicissimus was a German satirical weekly founded in April 1896 and self-published by Albert Langen. It was modelled on two French papers, Gil Blas illustré and Le Rire. The concept blended politically risqué content with contemporary graphic design.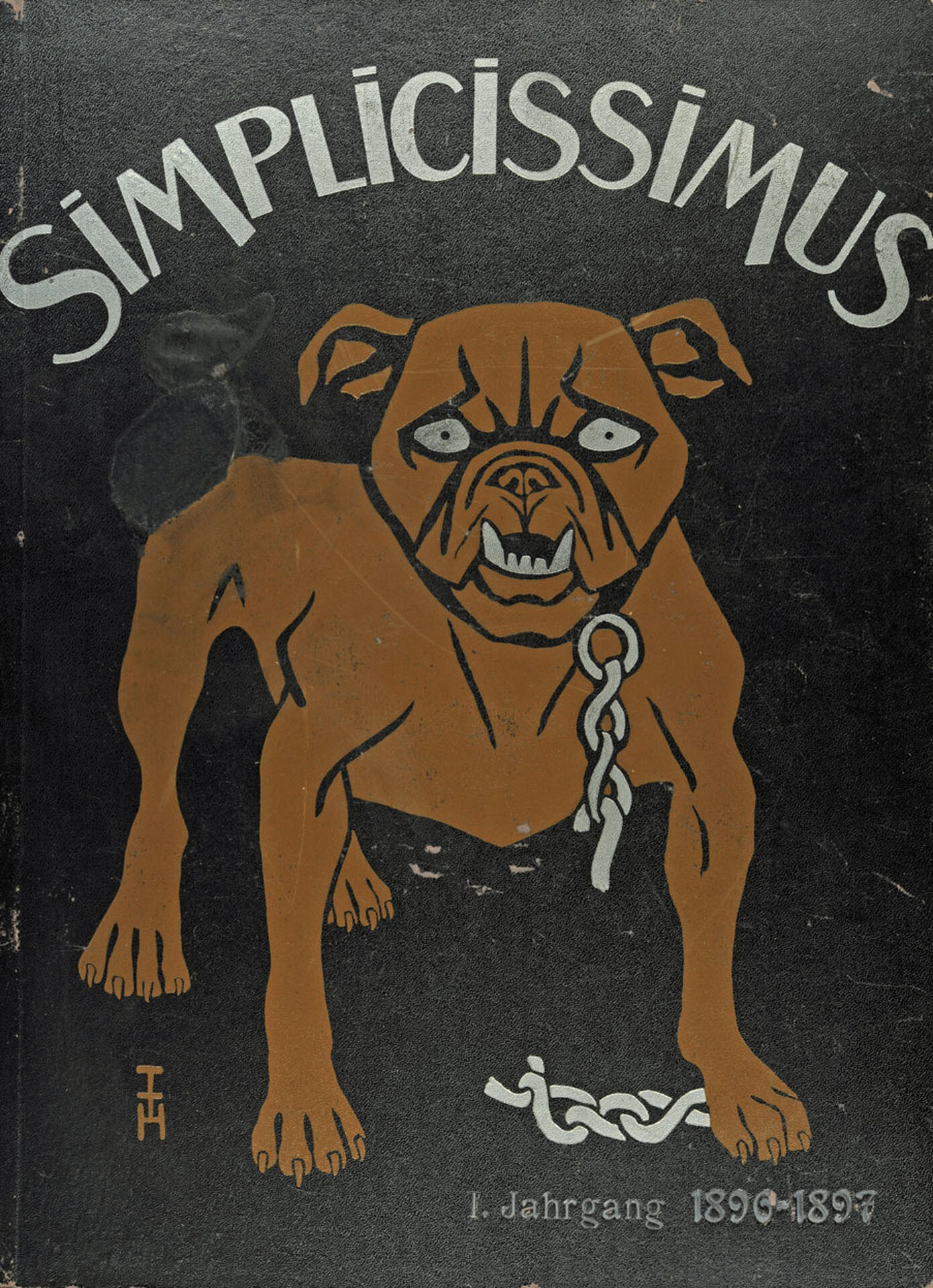 Simplicissimus, cover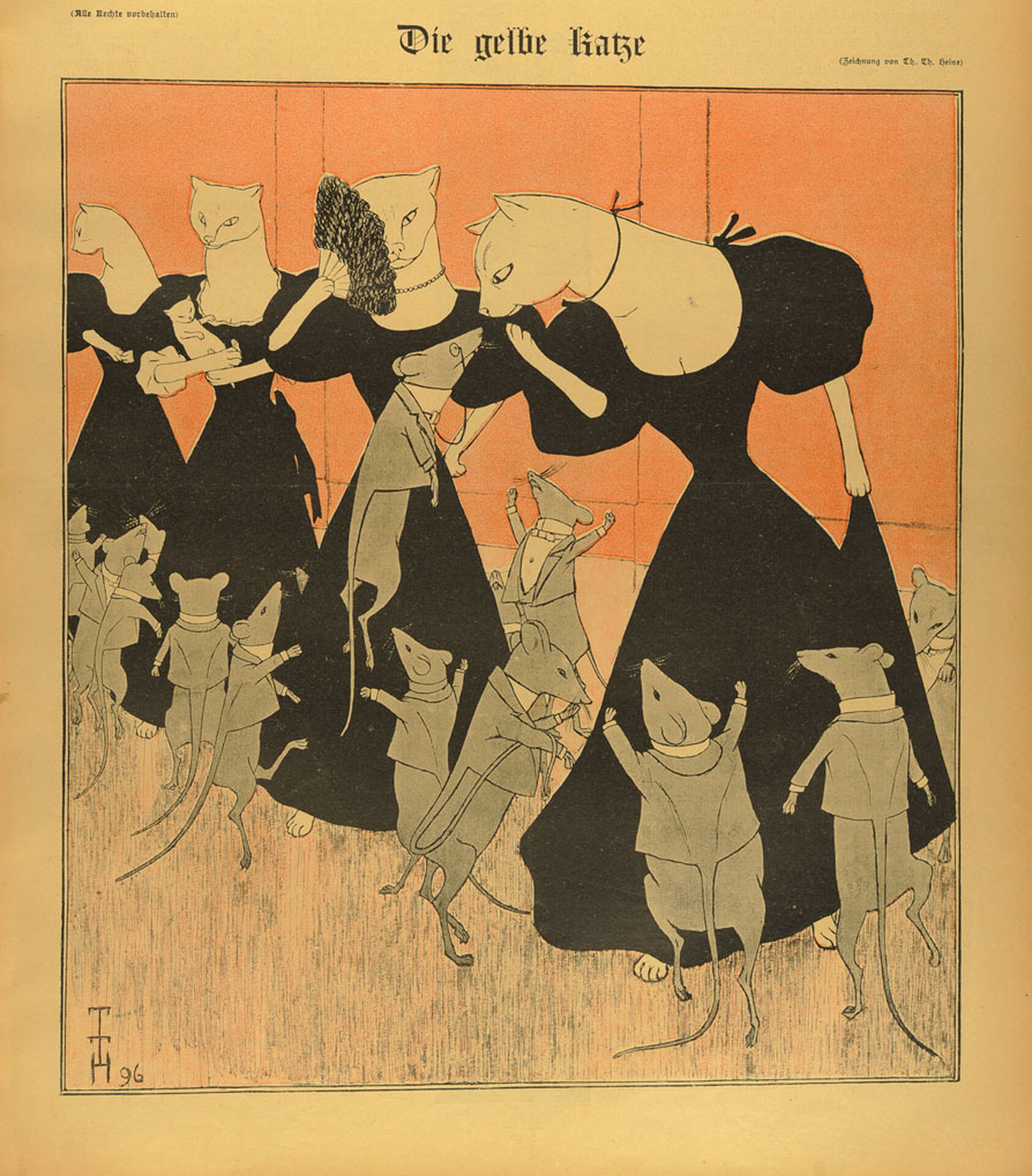 The Yellow Cats, illustration from Simplicissimus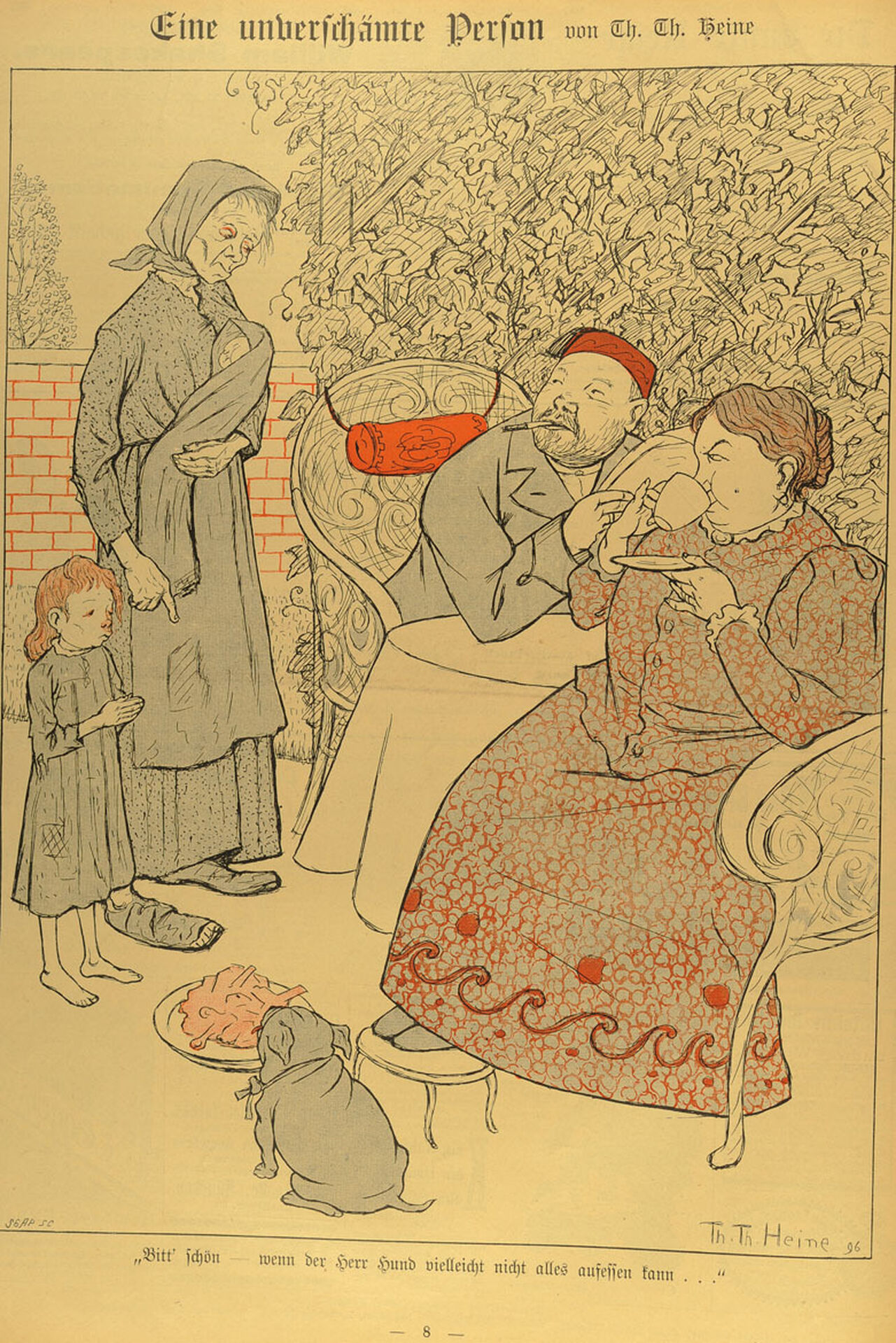 Illustration from Simplicissimus. Caption above: An Impertinent Person by Thomas Theodor Heine. Caption below: Help yourself – if the dog can't manage all of it
Straight-laced Prussian army officers and rigid German social structures were frequent targets for mockery when viewed from the more liberal atmosphere of Munich, where the paper was based. Contributors included Thomas Mann, Rainer Maria Rilke, Frank Wedekind and many other prominent writers.
In 1898 Kaiser Wilhelm grew tired of being ridiculed on the cover, and the paper was suppressed. Langen, the publisher, was forced to flee Germany for Switzerland and was fined 30,000 gold marks. The illustrator Thomas Theodor Heine and the writer Frank Wedekind were sent to jail for six and seven months respectively. In 1906 there was another crackdown, and Ludwig Thoma, the editor, was jailed for six months for attacking the clergy. All these controversies merely boosted circulation, which peaked at 85,000 copies a week.
When Germany entered the first world war in 1914, the paper toned down the satire, began supporting the war effort and considered shutting down. However, it continued to publish, and its illustrations in particular took on a strongly political slant, thanks to artists such as George Grosz, Käthe Kollwitz and John Heartfield. The paper was published from April 1896 until 1967, with a hiatus from 1944 to 1954. In 1964 it became fortnightly.
In 1946 a private donor donated several partial volumes, and in 1952 Claës Axel Widstrand, through the Friends of Nationalmuseum, donated several complete volumes to the Art Library.
Claës Axel Widstrand (1866–1956) was a respected Swedish naval physician, biographer and art collector. He owned Sweden's largest private collection of graphic art, comprising well over 40,000 pages. Widstrand also made extensive donations of graphic art to Nationalmuseum.
//Maria Zetterberg, Librarian, The Art Library