The Art Bulletin of Nationalmuseum is published annually and contains articles on the history and theory of art relating to the collections of the Nationalmuseum. The content of this double issue primarily reflects the extensive acquisitions during the years 2017 and 2018.
The first part of the Art Bulletin contains a series of in-depth studies on the most significant acquisitions in the form of scientific articles. The second part consists of an account of all, over a thousand, purchases and donations during 2017 and 2018. At the end there is also an account of the scientific activities of the staff.
The Art Bulletin is usually published annually. The intensive work during the reopening year 2018 did not allow any publication. Therefore volumes 24-25 is a double issue.
The Friends of the Nationalmuseum is the major contributor to the extensive acquisitions, in addition to the Wiros Foundation and the museum's own foundations. The Friends of the Nationalmuseum have also financed the publication of this double issue.
Editorial Committee: Ludvig Florén, Carina Fryklund, Eva Lena Karlsson, Audrey Lebioda, Ingrid Lindell, Magnus Olausson, Martin Olin, Cilla Robach and Lidia Westerberg Olofsson
Editors: Ludvig Florén, Magnus Olausson and Martin Olin
ISSN: 2001-9238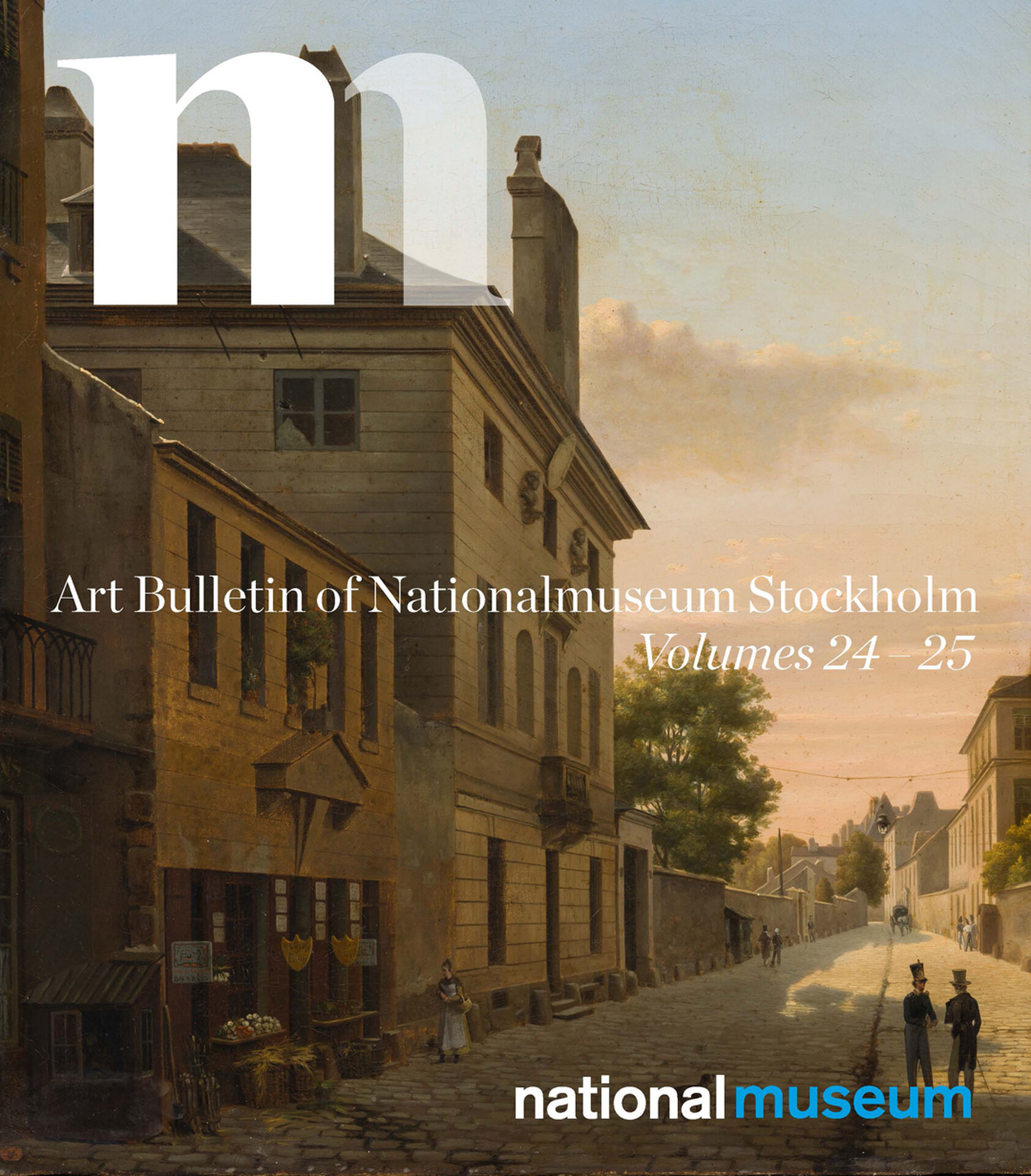 Art Bulletin of Nationalmuseum, Volumes 24-25, cover.
Open Access
Art Bulletin is published via DiVA. You can also access it via the links below. You can open, or download, the publication in its entirety, or the articles separately.
Download the publication in its entirety (low resolution pdf)
Download the publication in its entirety (high resolution pdf)
Articles
Foreword
Susanna Pettersson
The Friends of the Nationalmuseum
Eva Qviberg
An Unpublished Drawing on Panel by Salvator Rosa Depicting a Landscape with a Philosopher and Astrological Symbols
Caterina Volpi
A Drawing for Pietro da Cortona's Rape of the Sabine Women
Martin Olin
The Entry of Queen Christina into Paris in 1656, by François Chauveau
Martin Olin
Count Fabian Wrede's Mirror
Micael Ernstell
Consummate Preparatory Studies and Finished Works of Art – 18th Century French Drawings
Daniel Prytz
Decorative Objects i Retour d'Égypte Style – A Reflection of International Politics
Magnus Olausson
Before Photography – French Genre Painting in the Early 19th Century
Magnus Olausson and Carl-Johan Olsson
Joseph Weninger – An Itinerant Photographic Pioneer
Magnus Olausson
Italian Studies from the 1820s by Théodore Caruelle d'Aligny
Martin Olin
Danish Golden Age Portraits in the Nationalmuseum – New Acquisition Going Back a Hundred Years
Magnus Olausson
Self-Portraits and Portraits as Portraits of Friends – A Selection of Paintings and Drawings
Daniel Prytz
Struggle for Existence by Agnes de Frumerie
Linda Hinners
Spika and Tajt – Alternative Furniture for a Young Generation
Cilla Robach
Henry B. Goodwin – A Visual Artist with the Camera as his tool
Eva-Lena Karlsson and Magnus Olausson
Portraits by Dawid
Magnus Olausson
Hide and Seek – Things Are Not What They Seem
Cilla Robach
A Newly Discovered Drawing by François de Nomé
Carina Fryklund
The Troubadour Style in French Romanticism
Magnus Olausson
Per Krafft the Younger and Belisarius – One of the Foremost Swedish Examples of Neoclassical Painting in the French Style
Daniel Prytz
Women Artists in France in the 1880s
Carl-Johan Olsson
Carl Christoffer Gjörwell – A Neoclassicist Abroad
Wolfgang Nittnaus
Lions in the Garden of Eden
Cilla Robach
The Seven-Year Throne by Knut Fjaestad
Anders Svensson
Smart Design
Cilla Robach
Nils Kreuger's Drafts for the Covers of Bland franska bönder (1889) by August Strindberg and Ord och Bild (1897)
Daniel Prytz
Venus in Glass
Micael Ernstell
Three German Artists on their Travels
Carl-Johan Olsson
The Nationalmuseum's New Restaurant – An Artistic Collaboration
Helena Kåberg and Fredrik Eriksson
The Tessin Lecture 2018: In the Breach of Decorum – Painting Between Altar and Gallery
Gail Feigenbaum
Staff Publications and Activities 2017–2018