Nationalmuseum has acquired a pastel portrait of Lady Georgiana Cavendish at the age of six. The portrait is the work of John Russel, one of the era's foremost pastellists. This is the first example of this particular art form by a British artist to be acquired for the museum's collections.

The pastel was painted by John Russel (1745–1806) in 1790 together with a portrait of Georgiana's younger sister, Henrietta. The two works were both exhibited at the Royal Academy of Arts in London that year under the same title: Portrait of a Young Lady of Quality. By this point, Russel was at the peak of his artistic powers having been appointed Crayon Painter to King George III. The portrait is mentioned in a letter to her daughter by Countess Spencer, who commissioned the work: "The Duke is not yet gone my Dearest Georgiana which has given me time to have a little Craion [sic] picture of Georgiana finished by Russal [sic] – it is drawn in the cap she wore while she had her cold & which I thought became her much".
Georgiana Cavendish (1783–1858) was affectionately known as "Little G", having been named after her mother Lady Georgiana Spencer, a renowned beauty whose own portrait was painted on many occasions, including several times by Thomas Gainsborough. The younger Georgiana's father was William Cavendish, 5th Duke of Devonshire. It was not until nine years into the marriage, in 1783, that she was born and she was very much longed for. Mother and daughter in particular became very close. In 1801, Little G married George Howard, Viscount Morpeth and later the Earl of Carlisle, after which she spent the greater part of her adult life on her husband's family estate, Castle Howard in Yorkshire.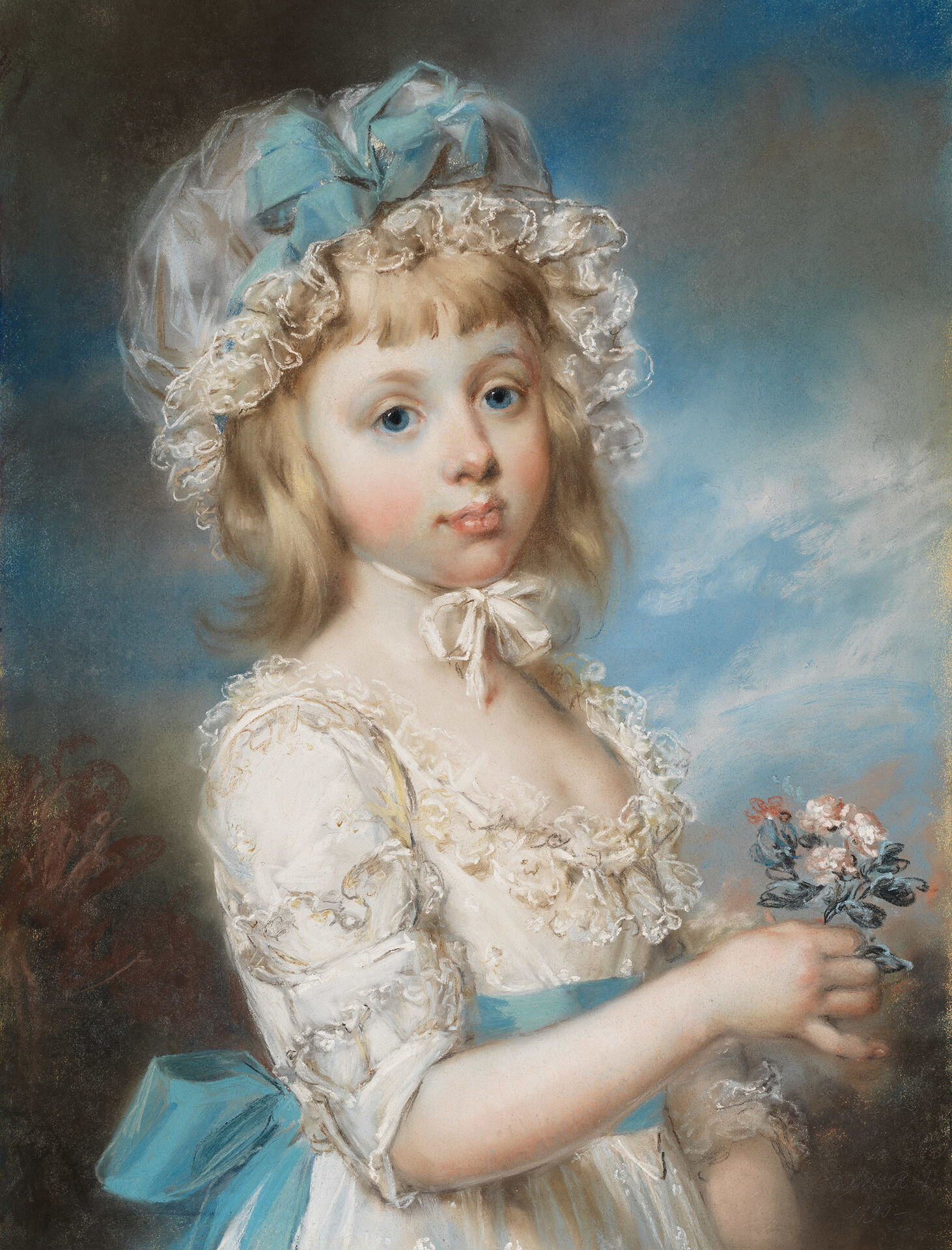 John Russell, Portrait of Lady Georgiana Cavendish, 1790. Photo: Cecilia Heisser/Nationalmuseum.
John Russel's father, John Russell Snr., was a cutler and amateur painter with an interest in chemistry who appears to have passed on both his artistic and scientific interests to his son. Perhaps this was also significant to Russell's preference for pastel techniques and the chromatic effects he could achieve with them. The artist later wrote on this subject in the essay Elements of Painting with Crayons (1772). In the late 1760s, he trained for a couple of years under Francis Cotes, an academician and one of London's foremost pastelists. Russell's clientele came mostly from the well-to-do middle class, although he also painted the aristocracy and members of the royal household.
He was often commissioned to paint the portraits of children and, despite his technical accomplishment, such works could become repetitive, among other things due to the repeated use of contemporary tropes to portray desirable attributes, such as pastoral associations. In Nationalmuseum's new work, however, this is not the case, perhaps in part due to the clear directive he was given by his client. This can rightly be considered among the artist's finest portraits of children.
"Nationalmuseum is delighted to be able to acquire this significant example of John Russell's child portraiture; an important addition to the British paintings of that period in the museum's collections," says Daniel Prytz, curator at Nationalmuseum.
Nationalmuseum receives no state funds with which to acquire design, applied art and artwork; instead the collections are enriched through donations and gifts from private foundations and trusts. The acquisition has been made possible by the support of the Axel and Nora Lundgren Fund.
Inventory number:
John Russell, Portrait of Lady Georgiana Cavendish (1783–1858), later Countess of Carlisle, at the age of six, 1790. Pastel on paper. NMB 2781.