The exhibition Public Space is a collaboration between Jernhusen and Nationalmuseum, showing reproductions of paintings from Nationalmuseum's collections. Since 2015 the exhibition has been on display at central stations all around Sweden. You can still see it at Hässleholm Central Station.
Culture and commerce. Private and public. Community. Isolation. Cities are full of contradictions. Public Space consists of reproductions of paintings in Nationalmuseum's collections, printed on large banners and posted on the walls in railway stations around Sweden. Using various works of art as our starting point, we give you the opportunity to reflect on the issues concerning the city and public space.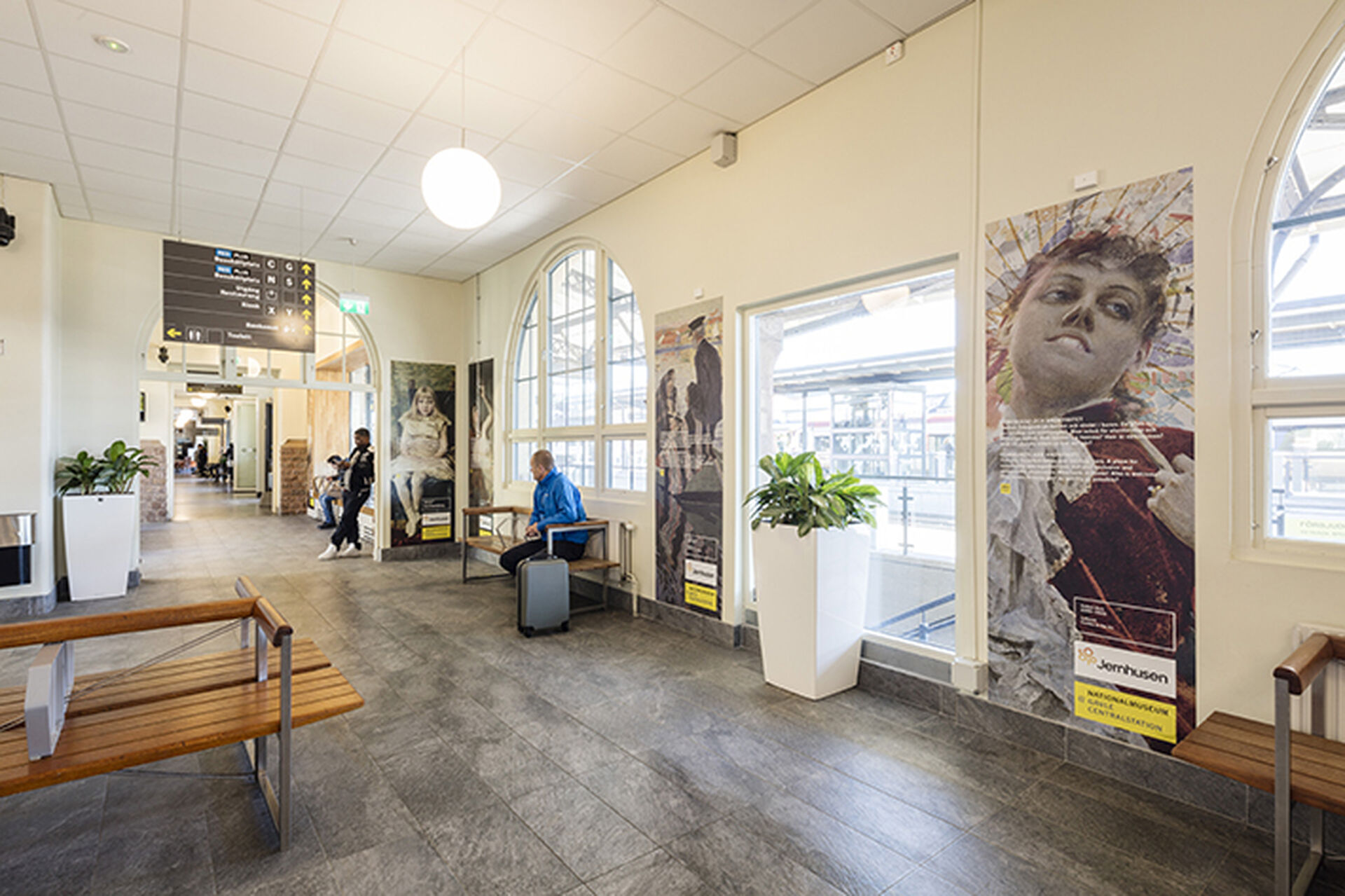 At Gävle Central Station, Photo: Per Myrehed
At Malmö Central Station. Photo: Melissa Kron
Change or preserve? Urban space is constantly morphing. Technical advances and economic developments influence circumstances when cities are built. At the same time, ideas about what is worth preserving change. What some people perceive as modernisation, others see as uglification, void of historic value. What does your ideal city look like?
Provocative or proper? What can we accept in public places? Views on what is acceptable have shifted through history and among cultures. Violence, nudity, poverty, smoking, alcohol and emotional outbursts have been more or less permitted in different time periods. Here we display works that at various times have been regarded as controversial. How do we view them today?
Community and anonymity. The city. Crowded buses and bustling bars. A place for community and togetherness, but also exclusion and undesirable encounters. Who feels at home? Who is welcome? Who wants to hurry past as quickly as possible?
Bordering on the private. People showing off their homes to the public is nothing new. In the 18th century, the Swedish king fashionably invited guests to his bed chamber as he was being dressed. Today's home decorating articles are matched by Carl Larsson's 100-year-old paintings. He promoted both his art and home decorating ideals in books published around the world. Where do you draw the line between private and public?
Free App
Download the app "A guided tour" from App Store or Google Play and chose Public Space for text or audio guides to the exhibition.
In Collaboration with Jernhusen
Public Space is a collaboration between Nationalmuseum and Jernhusen, which owns, develops and manages a portfolio of stations, station areas, maintenance depots and freight terminals along the Swedish railway system. It is our hope that more people will discover the treasures of the Swedish public art collections through this exhibition.
The exhibition has been on display at:
Linköping Central Station
Skövde Central Station
Gävle Central Station
Västerås Central Station
Norrköping Central Station