Nationalmuseum has acquired a landscape by the French naturalist painter Jean-François Raffaëlli, one of the foremost role models for the Swedish artists who travelled to Paris in the 1880s. Measuring only 9 x 16 cm, the painting nevertheless encompasses an entire microcosm, filled with the contrasts between idyllic scenery and factory smoke along a bend of the river Seine.
Jean-François Raffaëlli (1850–1924) was one of the French naturalist painters, who portrayed realistic scenes of everyday life on large canvases. Their motifs were often drawn from rural life, which they depicted with near photographic sharpness. Their main inspiration came from writers such as Émile Zola and Gustave Flaubert, who sought to portray their characters' inner lives by describing their external circumstances.
Raffaëlli occupied an unusual position on the Parisian art scene. Among the naturalists, he stood out on account of his rather distinctive technique, and although he was not considered an Impressionist, Edgar Degas invited him to exhibit alongside the Impressionists at the group's exhibitions in 1880 and 1881. This caused controversy, especially on the first occasion, when Raffaëlli entered no fewer than 37 works and was seen as taking up too much space. As a result, Claude Monet refused to take part.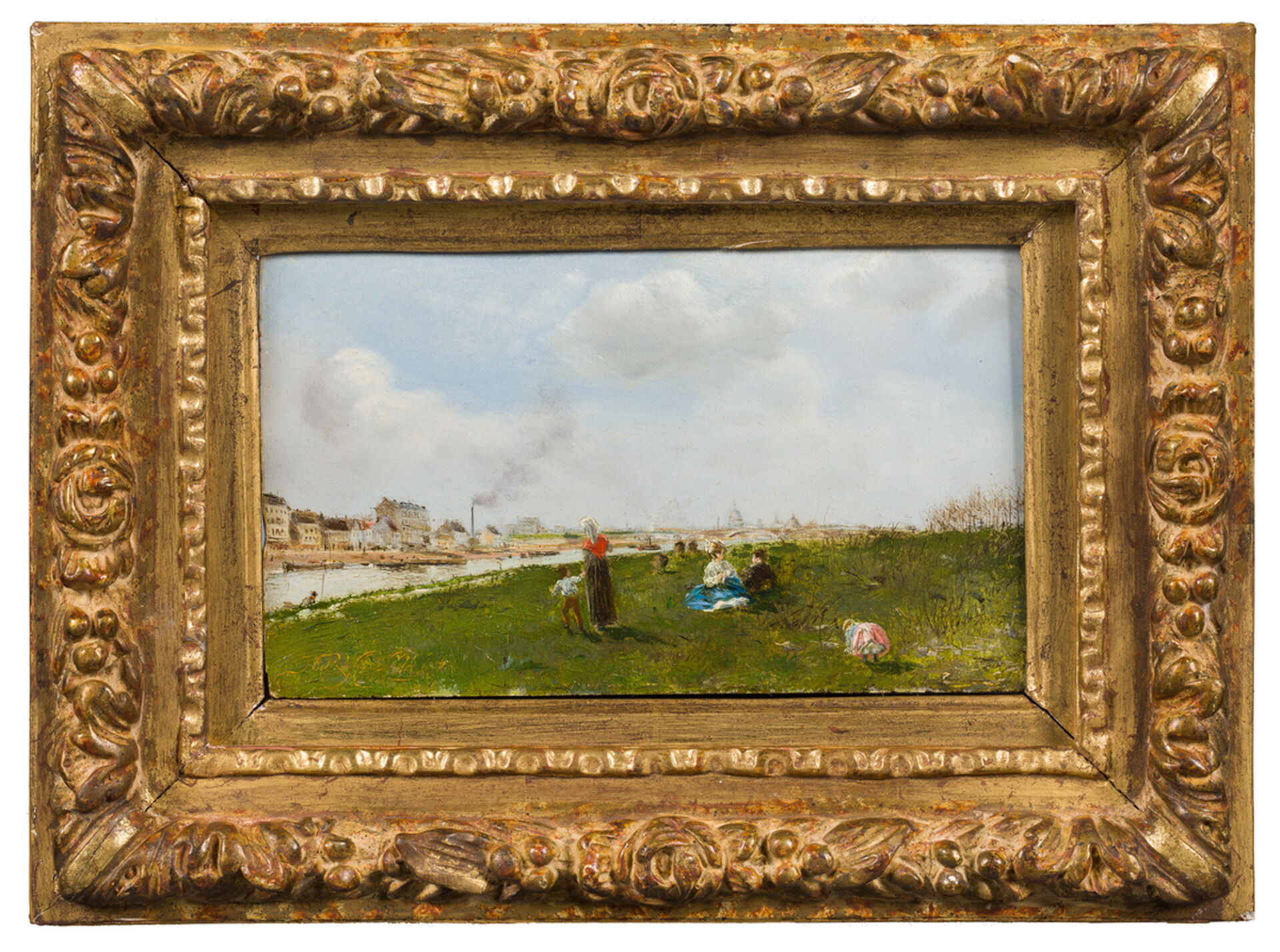 Jean-François Raffaëlli: View from Suresnes near Paris, 1870s–1880s. Oil on wood panel. NM 7652.
Having initially painted scenes mainly from the outskirts of Paris, in 1880 Raffaëlli began to take an interest in more urban motifs. The work recently acquired by Nationalmuseum was probably painted around this time. It depicts a young family on a country outing, but is also a panoramic view of Paris, showing buildings lining the Seine in the suburb of Suresnes, with the dome of the Panthéon discernible in the distance. The scene is a momentary snapshot, an impression enhanced by the lively children with their nanny accompanying the family. The painting appears hastily executed in vigorous brushstrokes, yet is noticeably detailed. These very characteristics impressed many of the young Scandinavian artists who headed to Paris hoping to make a career.

"With this painting by Jean-François Raffaëlli, Nationalmuseum can highlight the strong connection between French and Swedish art of the late 19th century even more effectively," explained curator Carl-Johan Olsson. "Artists such as Nils Kreuger often worked in this way, on a small scale and with an enervation and sharpness that makes even the most everyday scenes shine. Quite simply, this 9 x 16 cm painting provides the perfect proof that great art does not need to be large in scale."

Nationalmuseum receives no state funds with which to acquire design, applied art and artwork; instead the collections are enriched through donations and gifts from private foundations and trusts. This acquisition is a generous gift from Lars Vogel.
Inventory number:
Jean-François Raffaëlli: View from Suresnes near Paris, 1870s–1880s. Oil on wood panel. NM 7652.