An expressive self-portrait by Isaac Grünewald, dating from 1915, has been donated to Nationalmuseum. The artist was one of the leading figures of Swedish modernism and a cultural celebrity in his day. The painting, depicting the artist in profile, is a significant addition to the Swedish National Portrait Gallery, which is managed by Nationalmuseum.

Isaac Grünewald (1889–1946) grew up in very humble circumstances in the Södermalm district of Stockholm. He came from a poor Jewish family with roots in eastern Europe. Grünewald's artistic talent became apparent at an early age, and in 1905, aged just 17, he enrolled at the Konstnärsförbundet art school. Between 1908 and 1911 he studied at the Académie Matisse in Paris, where he learned a Fauvist style of painting, expressive and decorative in character, with a rich palette and large expanses of contrasting colour. Along with fellow members of the artist group De unga ('The Young', later known as De åtta, 'The Eight'), Grünewald organised three controversial exhibitions at Hallin's gallery between 1909 and 1911, which introduced Swedish audiences to the latest style, expressionism, with its liberation of colour and form. In the early years, when the critics and the public were somewhat hostile, Grünewald took it upon himself to advocate zealously for modernism. As an articulate, combative personality, he was sometimes subjected to merciless criticism in the form of words and images, much of which was openly antisemitic. Reactionary critics equated modernism with Judaism, portraying them both as threats to the nation and society. In the 1920s, modernism achieved a breakthrough and Grünewald enjoyed great success as a set designer for the Royal Swedish Opera. He was now a successful and much sought-after artist, eventually becoming a professor at the Royal Institute of Art. From 1911 until 1937, Grünewald was married to Sigrid Hjertén. They were a charismatic, fashionable couple who carefully staged their public appearances, much like today's celebrity couples.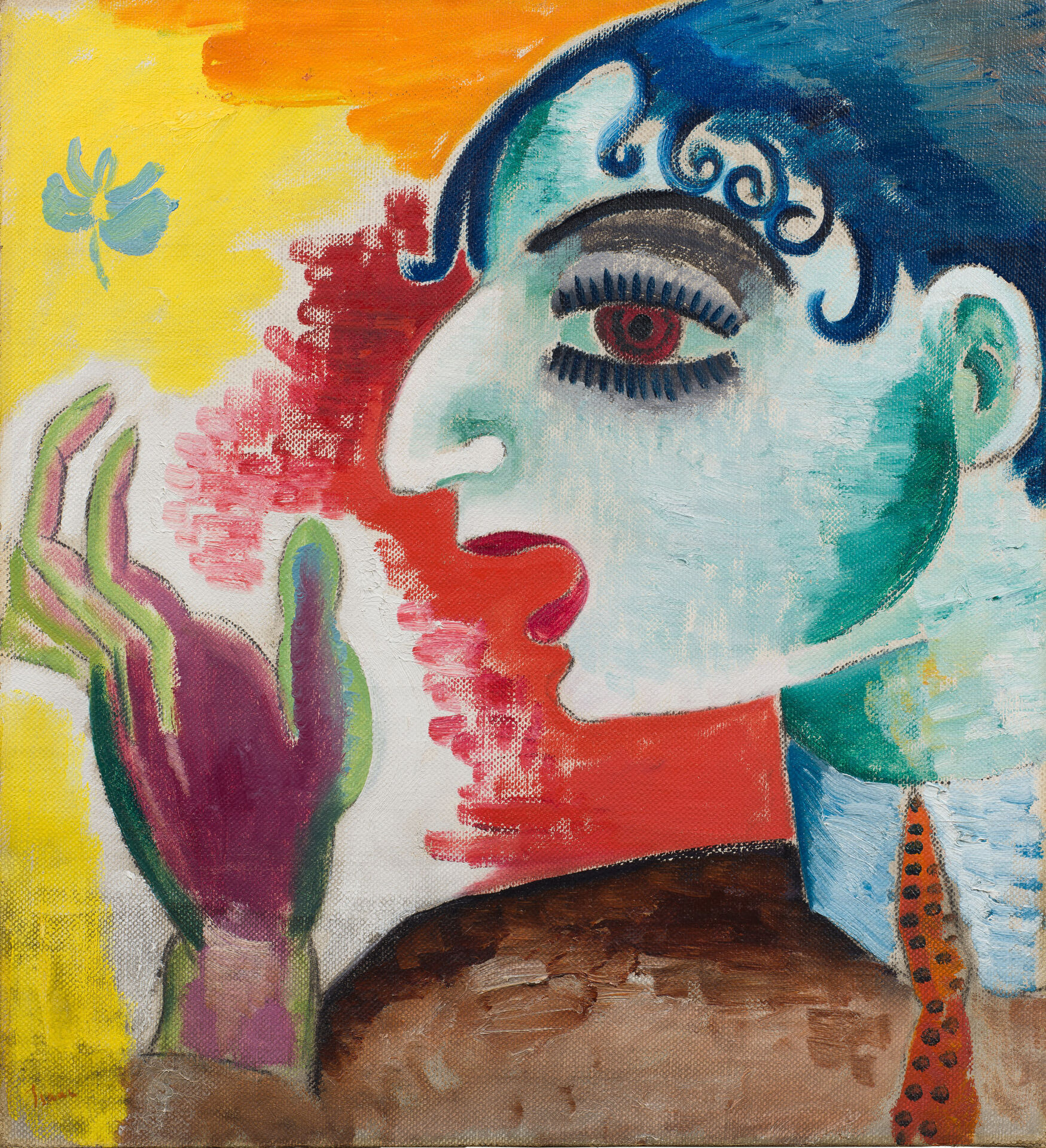 Isaac Grünewald, Self-portrait, 1915. Photo: Anna Danielsson/Nationalmuseum.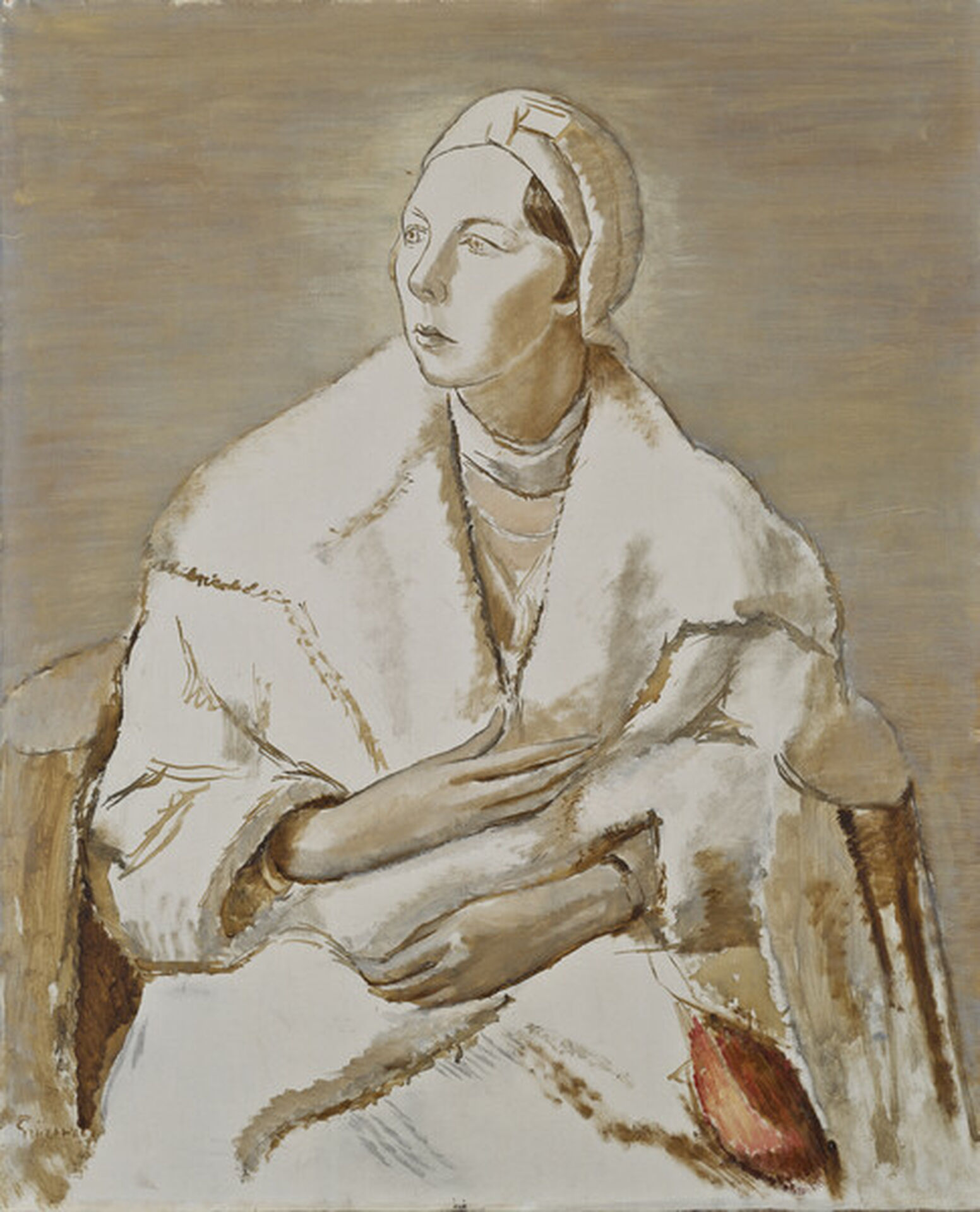 Isaac Grünewald, The portrait of Sigrid Hjertén (1885-1948), with which the new acquisition is compared further down in the text. Photo: Eric Cornelius/Nationalmuseums
The 1915 painting donated to Nationalmuseum is Grünewald's boldest and most experimental self-portrait, and at the same time it is representative of his mature expressionistic style. It was produced in the same year that the artist achieved his international breakthrough with a group exhibition at 'Der Sturm', Herwarth Walden's legendary gallery in Berlin. Intense, unmixed colours and complementary contrasts are the main means of expression in the work. Grünewald has portrayed himself in profile, with a bent nose, a wide-open eye with long lashes, and a sensually open, red-painted mouth. The feminised face in turquoise is framed by the elegant curve of the black eyebrow and the decoratively arranged locks of dark blue hair. The expressive gesture of the hand, resembling that of a marionette, adds to the theatrical character of the self-portrait.
The painting can be read as a reflection on the self-portrait as a genre at the intersection of self-reflection and self-staging, where the artist's internal self-image meets the projections of others. Scholars have interpreted the work as a commentary on the derogatory portrayal of the artist in the satirical press of the day. In antisemitic caricatures, Grünewald was made to represent "otherness" and was depicted as a stereotypical Jew with an exaggeratedly hooked nose, "oriental" appearance and feminised features. By deliberately using these exoticising features in his self-portrait, Grünewald addressed his own position as an outsider and turned it into his chosen means of expression. The self-portrait presents as a performative transformation from object to subject, and also as a queer artistic self-staging that challanges the prevailing gender norms in a radical way.
"Grünewald's striking self-portrait is a noteworthy complement to his more classical portrait of Sigrid Hjertén, painted in 1931, which is already in the Swedish National Portrait Gallery collection," said Carina Rech, curator of 19th-century visual art at Nationalmuseum. "It's a superb example of how Grünewald constantly explored the artist's role and radically questioned its prevailing limitations."
This year marks the bicentenary of the Swedish National Portrait Gallery, the oldest national collection of its kind in the world. Founded in 1822, it is now managed by Nationalmuseum. The Grünewald self-portrait will be on show at Prins Eugens Waldemarsudde in Stockholm this autumn as part of the exhibition Isaac Grünewald – Art and Theatre.
Nationalmuseum receives no state funds with which to acquire design, applied art and artwork; instead the collections are enriched through donations and gifts from private foundations and trusts. This acquisition is a generous gift from Ann-Britt and Björn Grünewald. Björn Grünewald is the son of Isaac Grünewald by his second marriage to the artist Märta Grundell.
Inventory number:
Isaac Grünewald, Self-Portrait, 1915. Oil on canvas. Swedish National Portrait Gallery. NMGrh 5299