In the spring and summer of 2023, Nationalmuseum will present The Garden, an exhibition showing how gardens have been portrayed in art. You will experience paintings, drawings, applied art and sculpture by artists such as Watteau, Boucher, Oudry, Le Nôtre, van Gogh, Monet and Carl Larsson and, from contemporary times, Peter Frie and Emma Helle.
In the spring and summer of 2023, Nationalmuseum will present The Garden – Six Centuries of Art and Nature. This exhibition will take the form of a grand tour showing how gardens have been portrayed in art – often walking the line between culture and nature. Garden art has always involved living materials: nature itself and the changing seasons. This makes it a dynamic artform, transforming, dying and renewing in line with the natural cycle.

A garden, whether artful or utilitarian, is not the same thing as nature. It has always been consciously designed in accordance with particular ideas and plans. Ultimately, the garden can be seen as a desire to recreate Paradise. The square, geometric quarters of a Renaissance garden with a fountain in the middle were one expression of this desire. Likewise, baroque pleasure gardens could be seen as a way of restoring what was lost in the fall of man. On the drawing board, God's creation would be resurrected with the aid of compasses and rulers. Geometry and optics would then translate the architect's vision into practice.

A complete reappraisal occurred in the 18th century, when humanity suddenly realised that it could be a danger to nature. The dark forests and rugged mountains were no longer considered threatening. Virgin nature, yet to be exploited by mankind, was the new ideal influencing landscape architecture. Eventually, though, the toytown scale and artificial character were perceived as so comical that art and nature went their separate ways after 1800 – a distinction that has endured. However, many of the questions raised throughout history about mankind's relationship with art and nature have persisted and recurred. This is clearly apparent in contemporary art, where both Paradise and the threat to nature are ever present themes.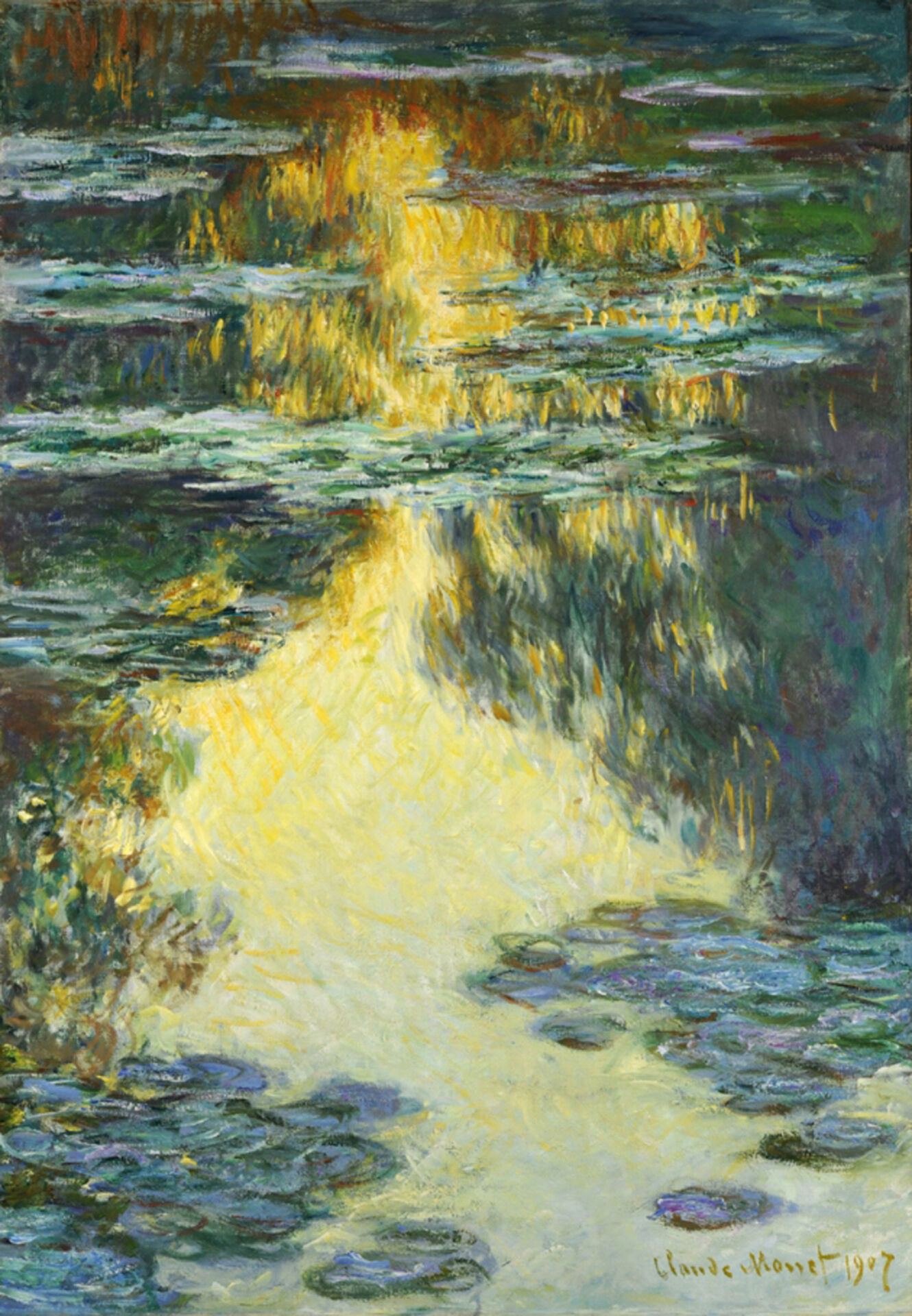 Claude Monet, Water Lilies, Göteborgs konstmuseum,1907, oil on canvas. Photo: Hossein Sehatlou/Göteborgs konstmuseum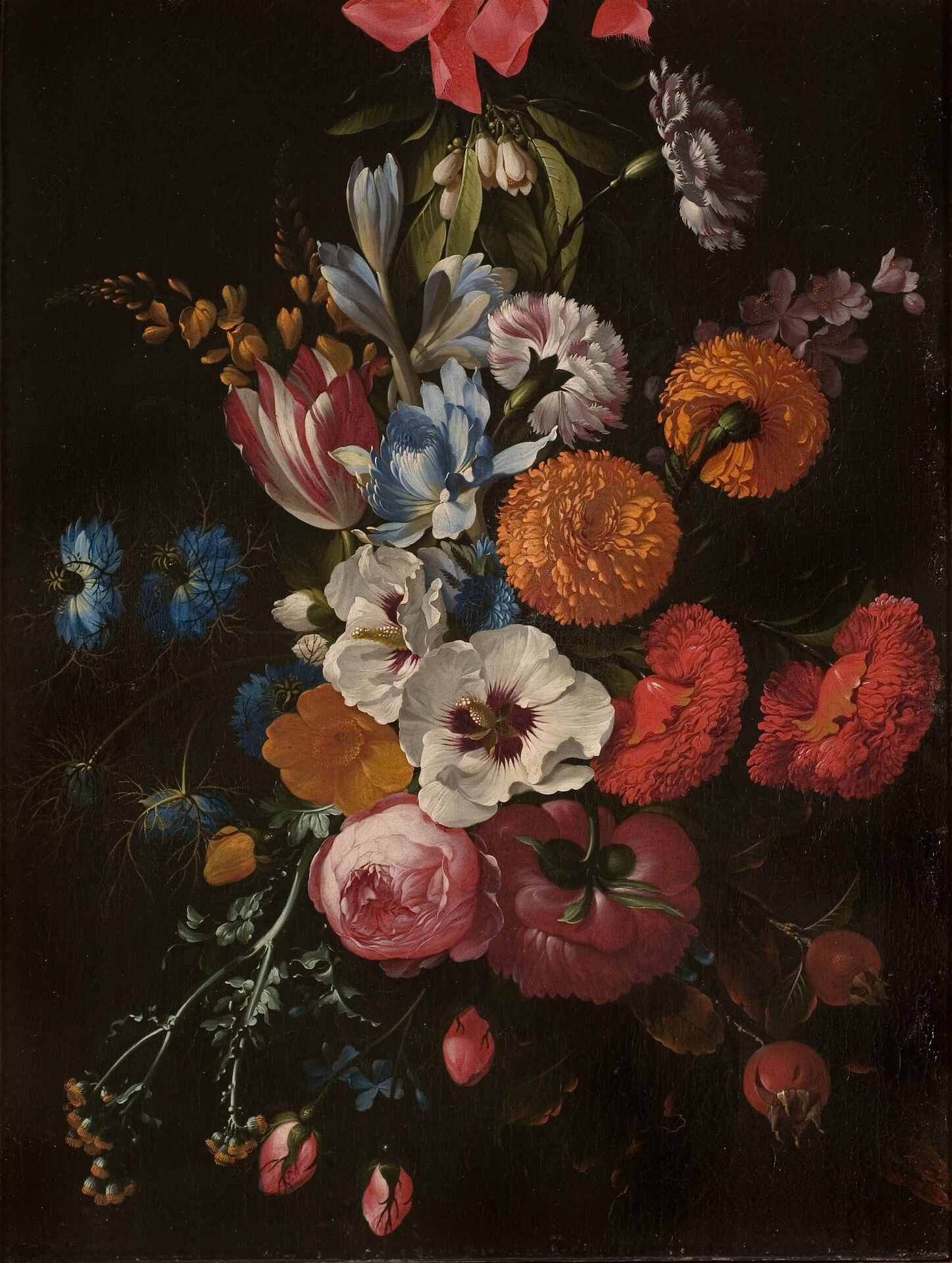 Johan Johnsen, Still Life with a Bouquet of Flowers. Oil on canvas.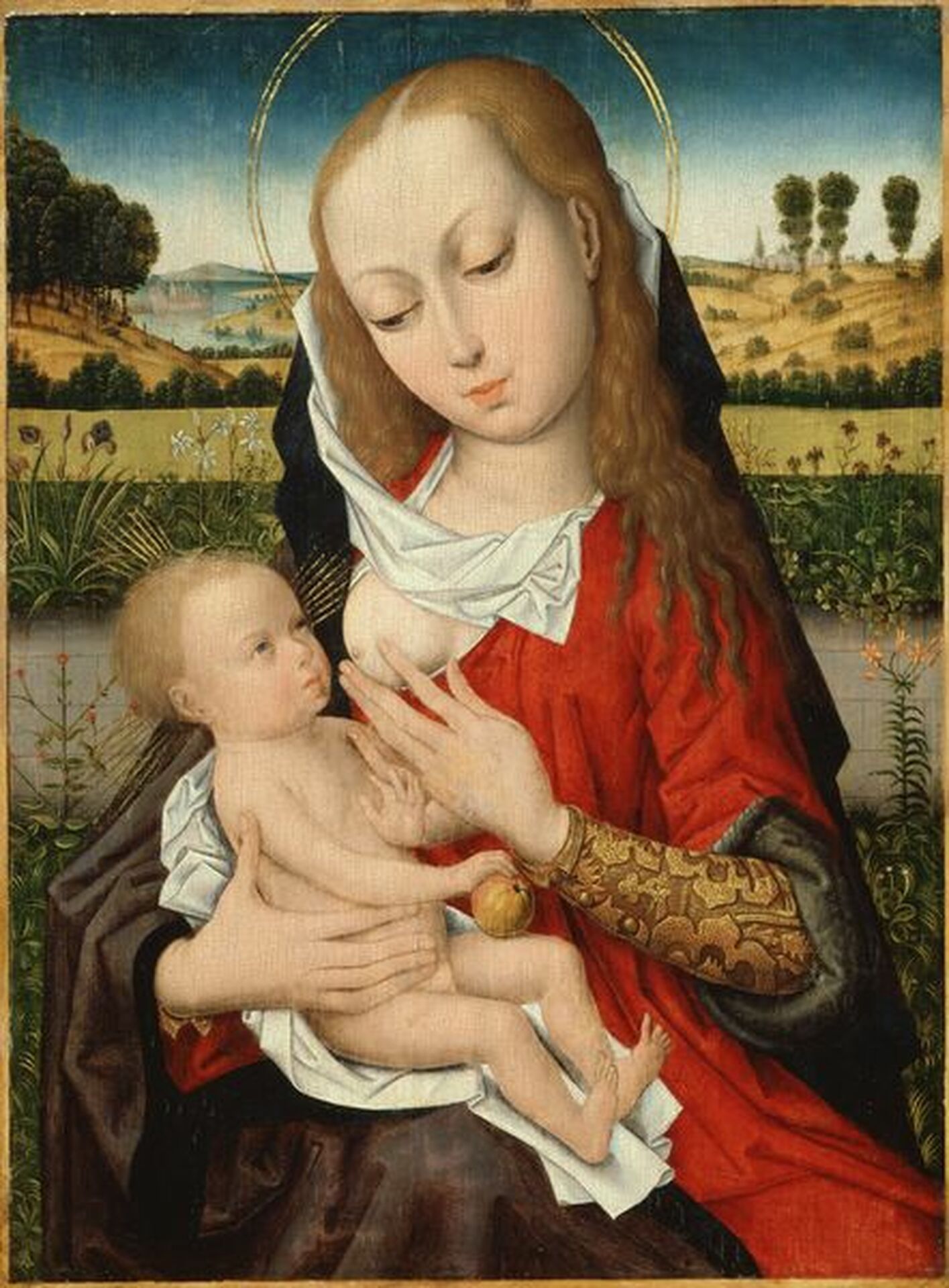 Mästaren till Katarinalegenden, Madonna and child, 1470s, oil on wood.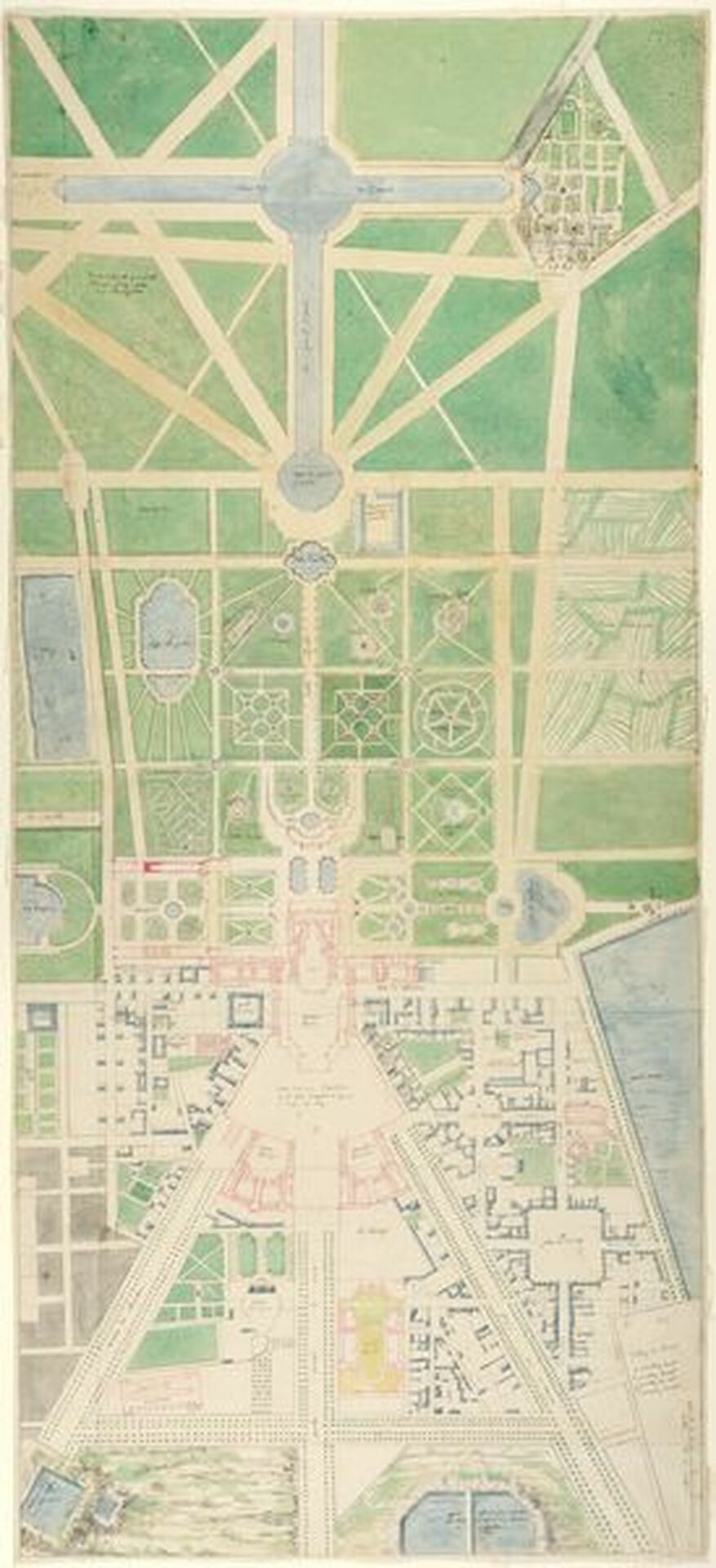 Jean II Le Blond, Versailles, large plan of the château, town, gardens, and surroundings. Ca 1687.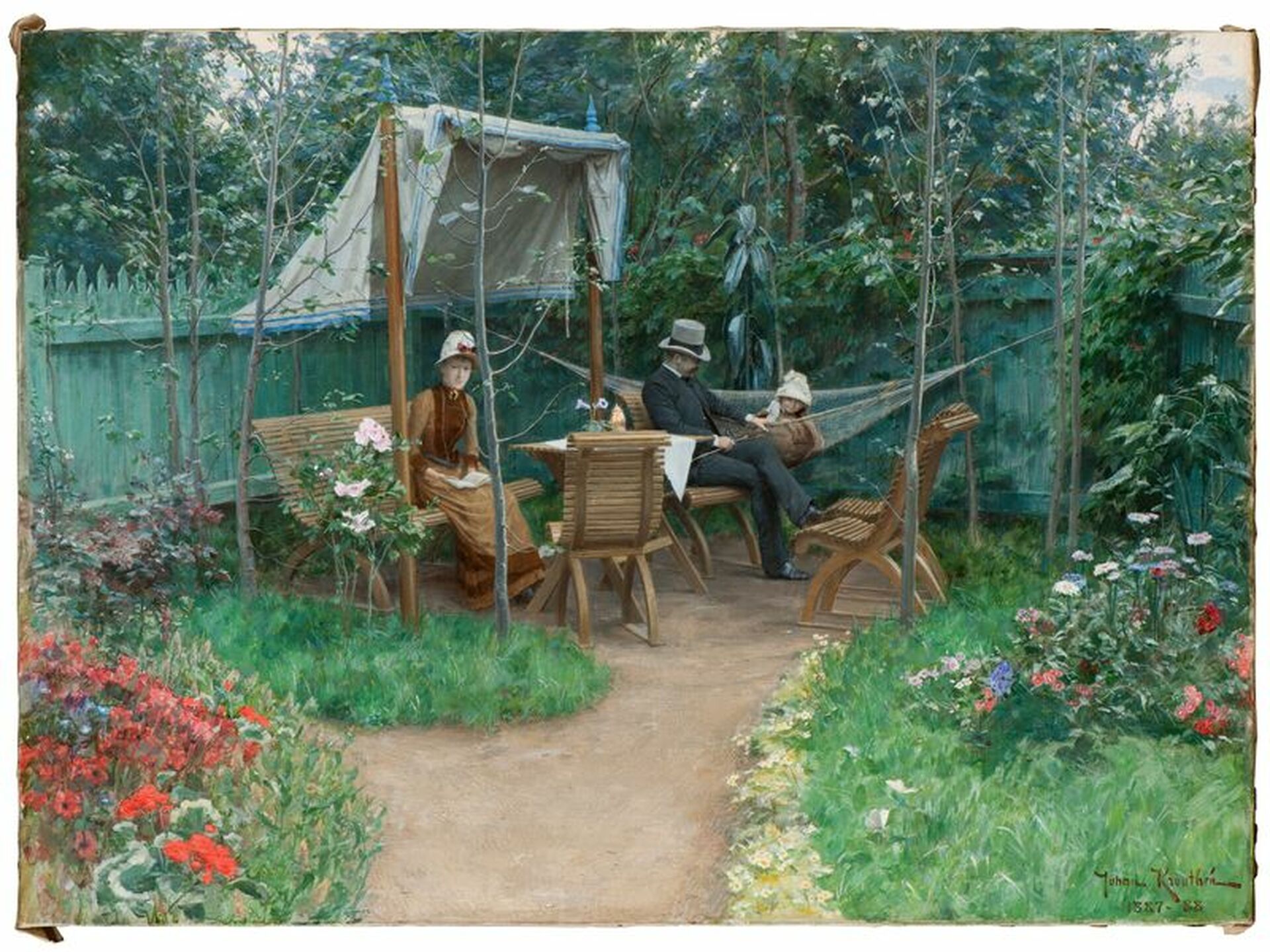 Johan Fredrik Krouthén, View of a garden Linköping. 1887–1888, oil on canvas.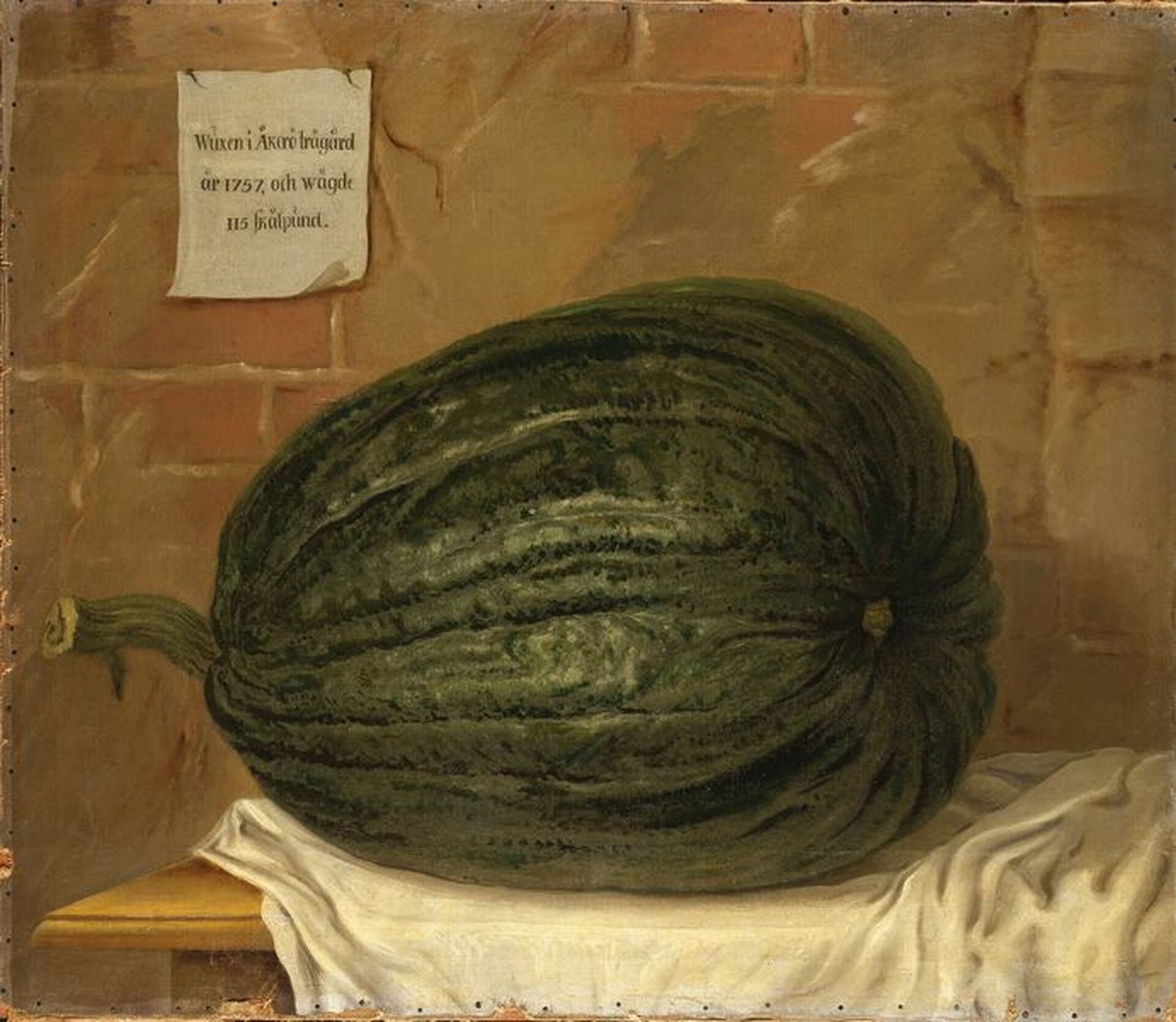 Olof Fridsberg, A huge pumpkin, 1757, oil on canvas.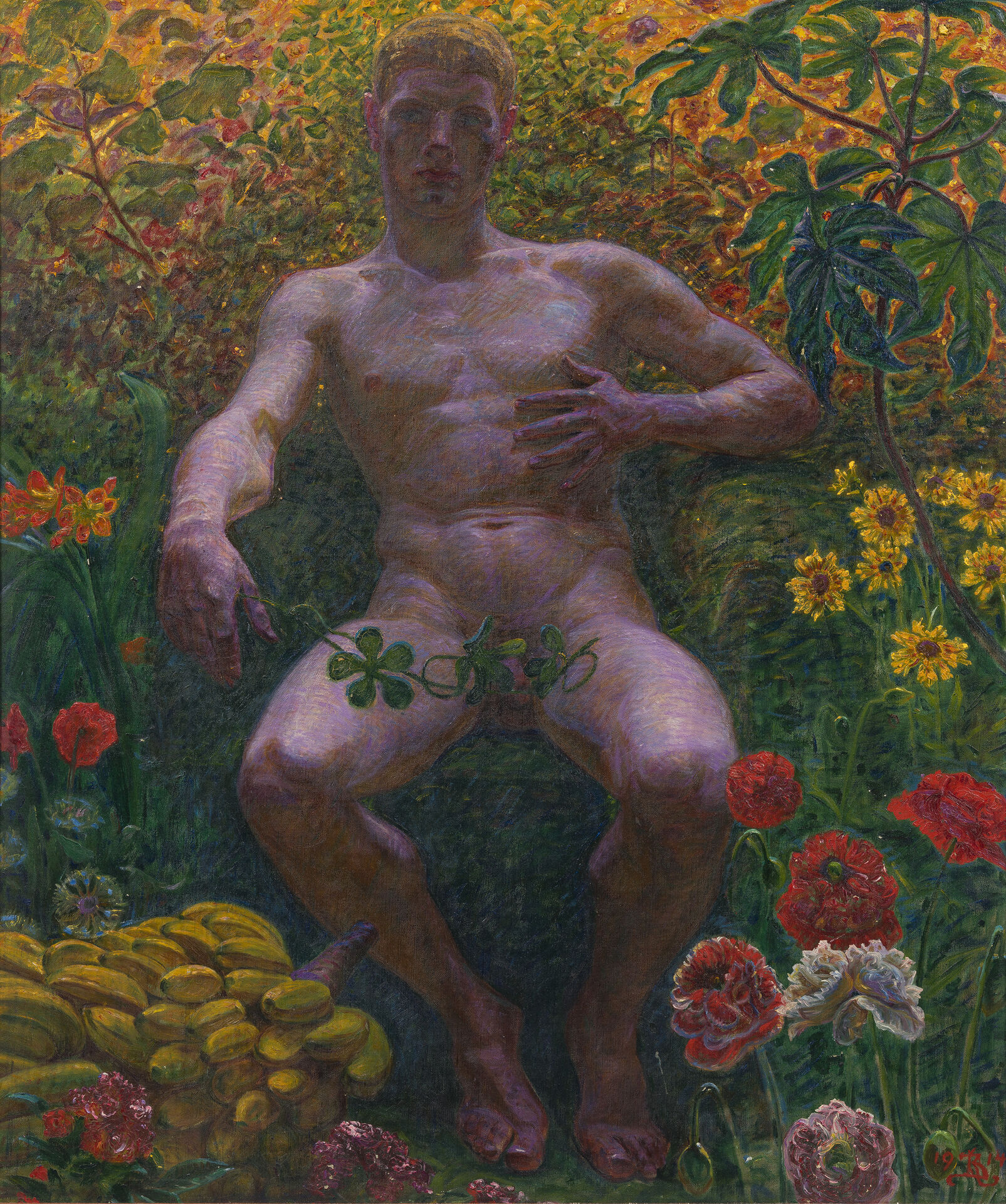 Kristian Zahrtmann, Adam in the garden of Eden, 1914, tempera and oil on canvas.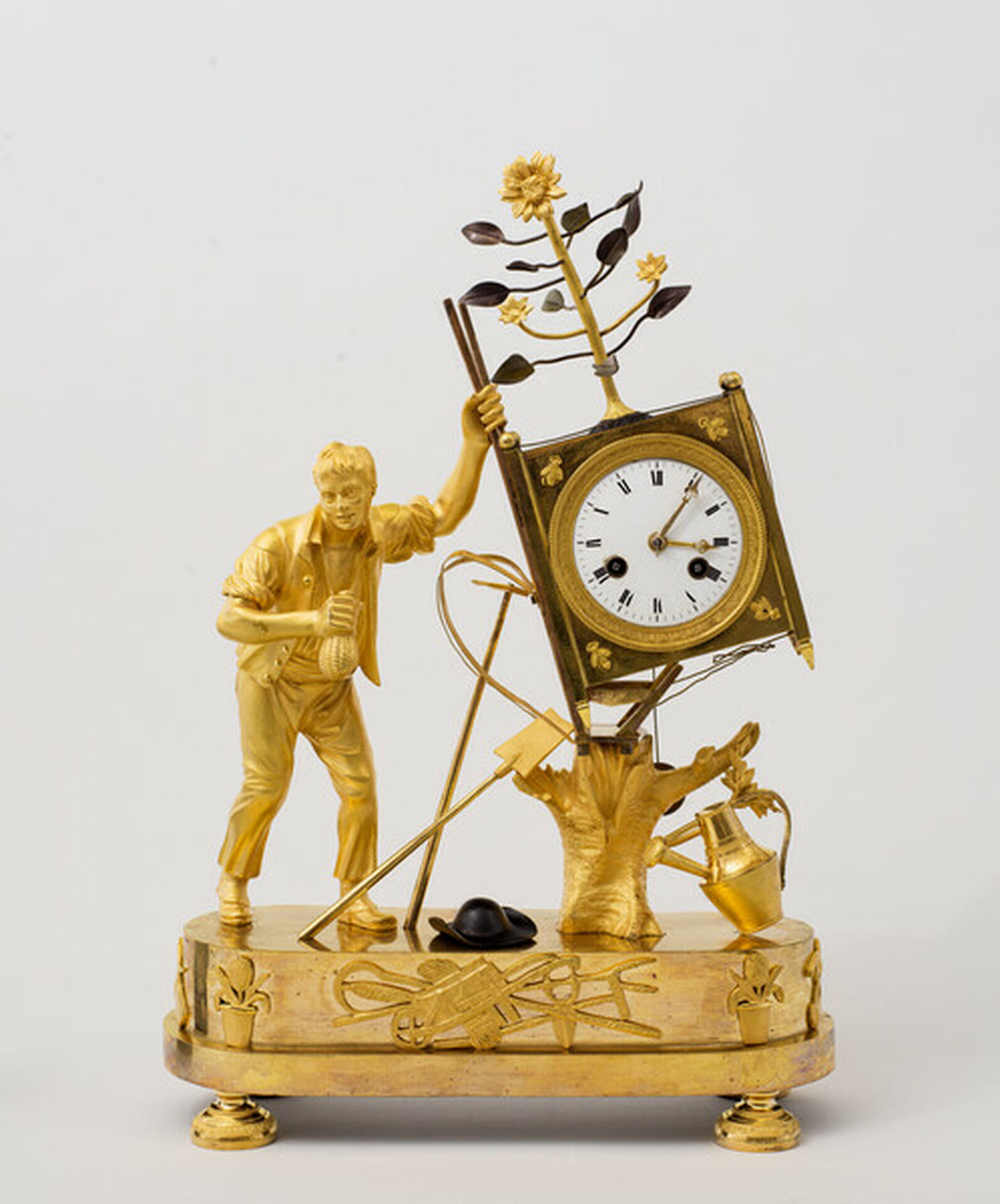 Unknown artist, Table clock, "The Garderner". 1820–1840, gilt bronnze, partly patinated.
The relationship between art and nature is central to the exhibition. The introductory section, devoted to the myth of Paradise, will occupy a large gallery of its own, lined with cabinets containing the various natural elements as reflected in the artworks. Similarly, the artificial garden will form the focus of the second large gallery, covering the period from the Renaissance to the present day. This gallery will be surrounded by smaller exhibition rooms featuring individual design forms ranging from caves to ruins. At the centre of all this, there will be a section covering the human presence in the garden.

As an example of contemporary interpretations, we have invited the artist Peter Frie to take part in the exhibition. Known as a painter of dreamlike landscapes, Frie has created a series of bronze sculptures of trees, having progressed from painting to a three-dimensional format. Trees of various sizes will be presented as an installation in dialogue with the historical material on landscape and gardens. Emma Helle, another contemporary artist invited to take part, works in ceramics and draws inspiration from sources such as classical mythology. Her decorative and colourful, almost baroque works take us on a fanciful journey through the history of myth and literature. Helle is also creating two new works especially for Nationalmuseum's exhibition as a commentary on the theme of Paradise.

The majority of the almost 300 exhibits will come from Nationalmuseum's own collections, but the exhibition will also include important pieces on loan, in order to give a complete picture of the garden as a phenomenon. A catalogue containing a series of in-depth articles will be published to coincide with the exhibition.

The exhibition includes some 300 paintings, drawings, applied art and sculpture, most of them from Nationalmuseum's collections. Artists on display include Watteau, Boucher, Oudry, Le Nôtre, van Gogh, Monet and Carl Larsson and, from contemporary times, Peter Frie and Emma Helle.