Nationalmuseum has acquired three English works by miniaturists Jeremiah Meyer, Ozias Humphry and John Cox Dillman Engleheart. The portraits in question are all examples of the blossoming of portrait miniatures as an art form from the mid-eighteenth to early nineteenth centuries. The acquisitions represent an important addition to the museum's collection of portrait miniatures, which is one of the foremost in the world.
Despite the name, a portrait miniature is defined not by its format but by its materials and painting technique. The French word miniature refers to the technique of painting with red lead (minium). As in medieval manuscripts, this was applied to vellum. Around 1700 ivory also was used as a painting surface, and in about 1820 large-format ivory was first extracted with the veneer method. This was just before miniature painting lost the battle for portraiture to photography.
Jeremiah Meyer
Jeremiah Meyer (1735–1789) provides a reminder of the important role played by foreign artists in the development of the art form in England. Born in Tübingen, Meyer was schooled in enamel painting in London by Saxon miniaturist Christian Friedrich Zincke. In recognition of his skills, in 1764 Meyer was appointed Miniature Painter to the Queen and Enamel Painter to the King, although his greatest contribution was to develop the use of ivory for portrait miniatures both technically and artistically. By using transparent watercolours, he was able to utilise the lustre of the ivory itself to make his portraits shimmer. At the same time, his style was distinctively graphic, with colouration given a subordinate role. Meyer exhibited great technical skill in building up his portraits, alternating short, intersecting lines with longer, unbroken strokes. By varying the grading and density of his lines, he was able to impart a variety of characteristics to skin, hair and clothing. The same applied to is handling of light and shade. All of this is clearly apparent in the newly acquired portrait of a youth in a blue coat. With a few judiciously placed highlights on the tip of the nose, lips and buttons, Meyer demonstrates his total control over his chosen medium. The uncommonly well-preserved skin tone seen here is rare in his work as the red pigment the artist favoured has often faded.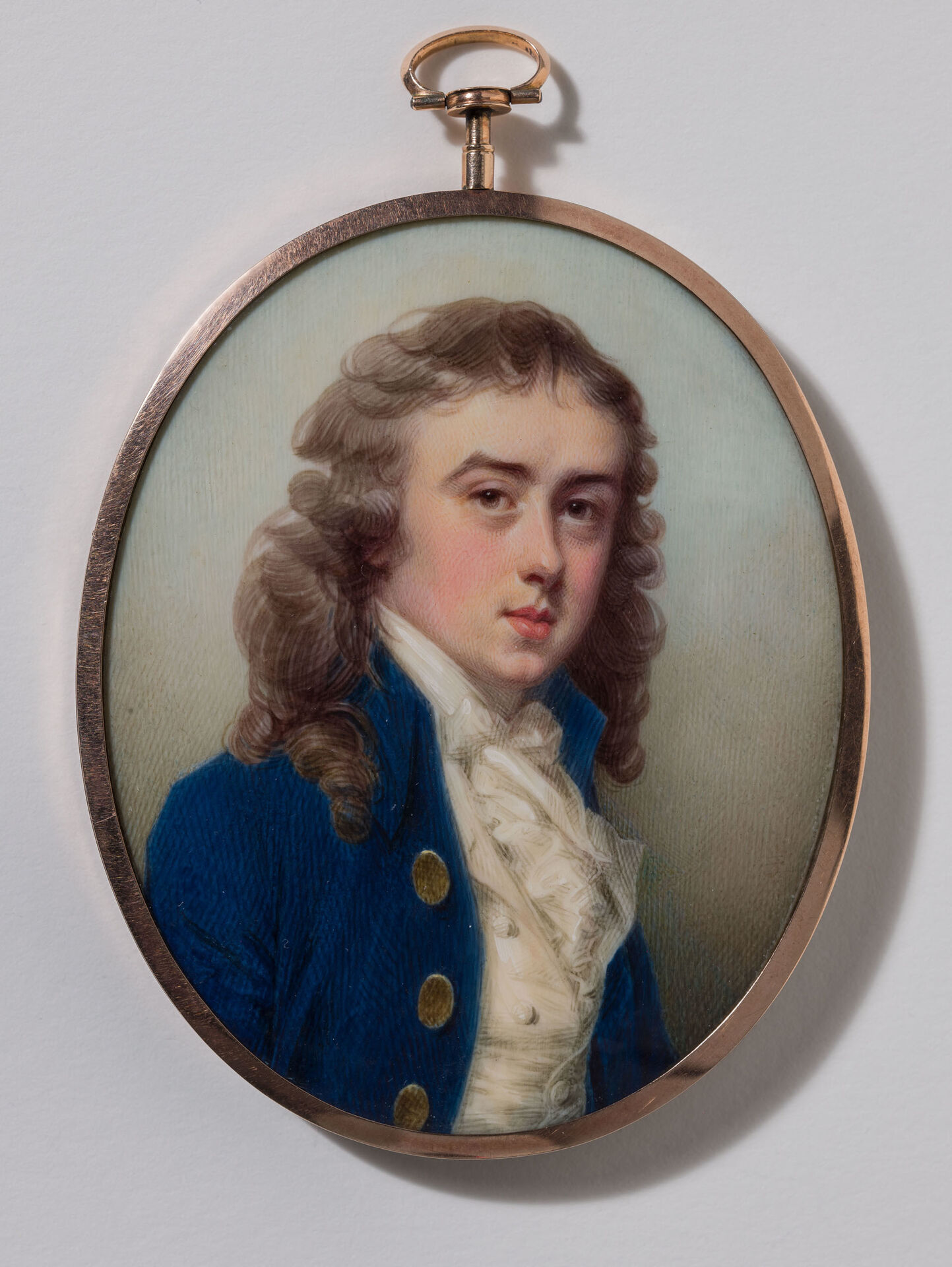 Jeremiah Meyer, A Boy In Blue Coat, 1780s
Ozias Humphry
In many ways, Ozias Humphry (1742–1810) was Meyer's diametric opposite, both as an artist and a person. Colouration initially played a greater role in his work than line, a result of Humphry's equal interest in oils and pastels. His blonde, warm tones have often been taken as an indication of a close relationship to pastels as an art form. For a while, it seemed as if Humphry would entirely abandon portrait miniatures; however, after an extended study trip to Italy he chose to concentrate on the form due to its better financial rewards. The striking portrait of Suliman Aga Le Luna, who visited London as a representative of the Regency of Tripoli, was painted in 1782 as a commission for Mary Bruce, Duchess of Richmond. This visit from afar was in connection with the British Government's efforts to curtail the effects of piracy on their Mediterranean fleet. Two years later, Humphry travelled to India in the hope of earning considerable sums from painting portraits of maharajahs, but the trip proved to be a disappointment. On his return in 1787, his failing sight finally culminated in blindness, putting a premature end to his career.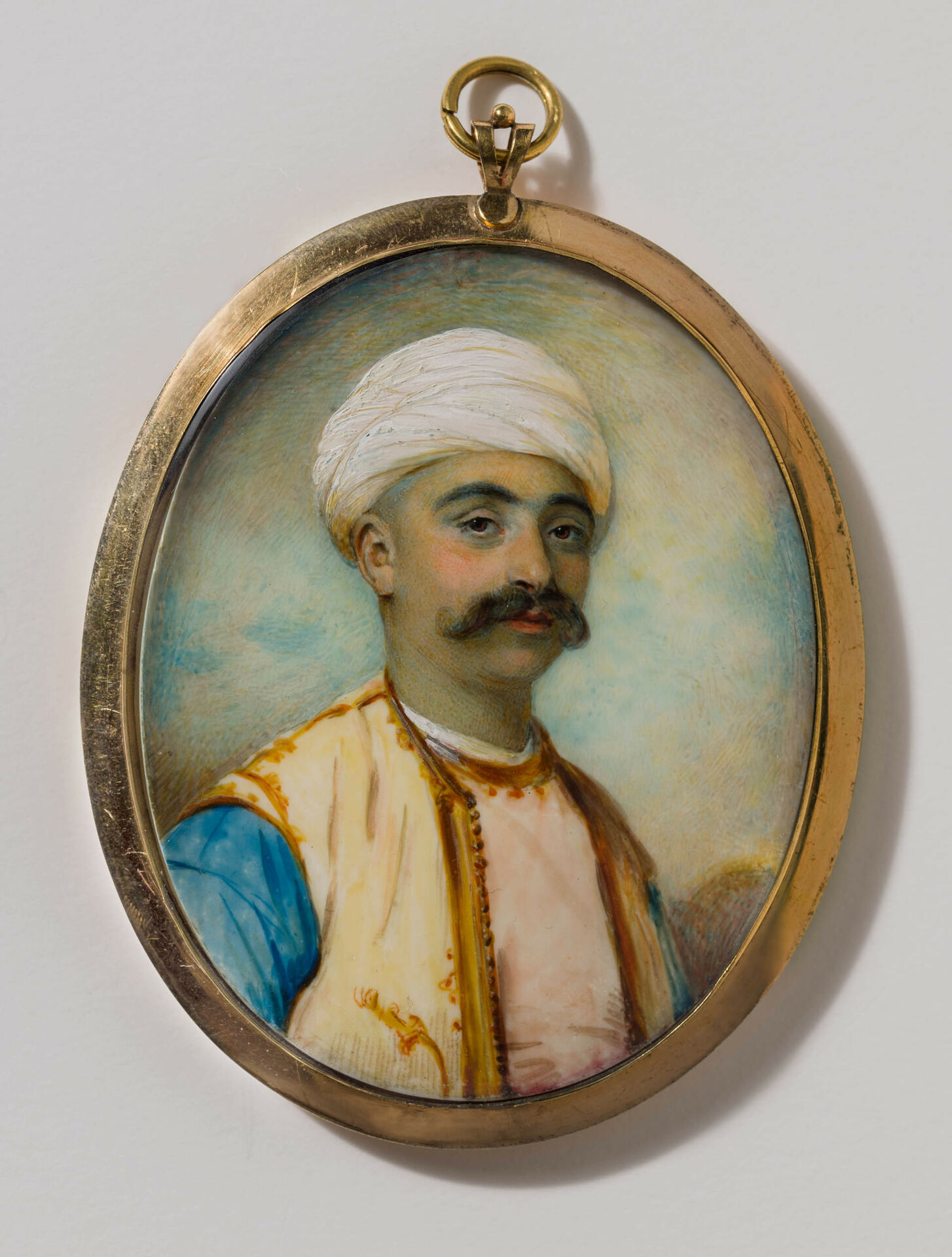 Ozias Humphry, Portrait of Suliman Aga Le Luna, 1782
John Cox Dillman Engleheart
John Cox Dillman Engleheart (1784–1862) was the nephew and apprentice of the more famous miniaturist George Engleheart. He first worked for his uncle, earning a living copying the older man's works. In contrast to George Engleheart's distinctive draughtsmanship, which distanced portrait miniatures from oil paintings, John developed a more refined technique, toning down visible brush strokes and using warmer colours. The recently acquired group portrait, probably of one the artist's brothers-in-law with family, is testimony to John Engleheart's own fine painting technique. Here, the artist has expended just as much energy in capturing the faces of the models as the inlays on the canapé. Painted in the 1820s, this large-scale portrait miniature of the Barker family demonstrates that, at that time, the art form had ambitions to measure itself against oil painting, both in terms of format and area.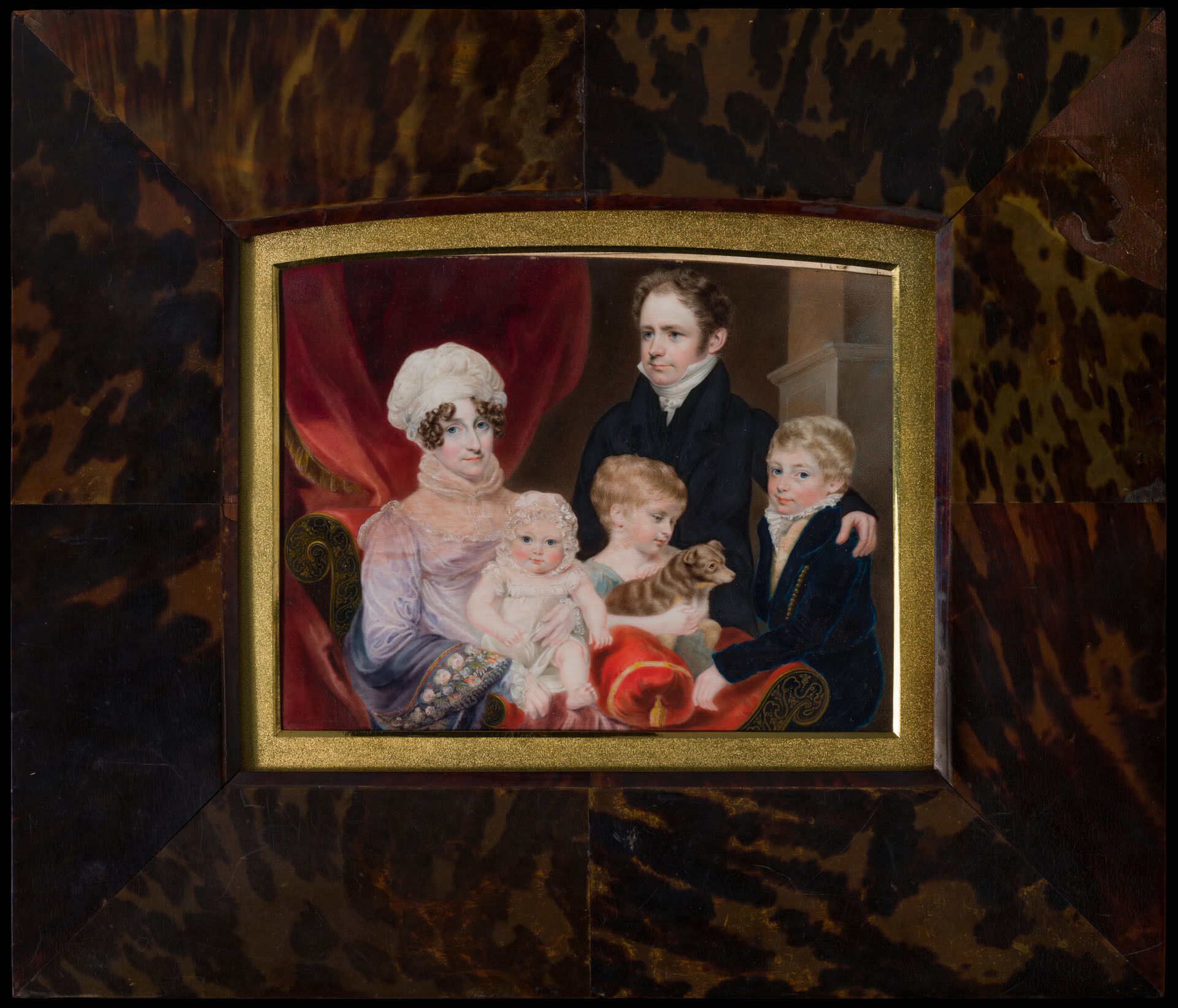 John Cox Dillman Engleheart, The Barker Family, 1820s.
Nationalmuseum receives no state funds with which to acquire design, applied art and artwork; the collections are enriched through donations and funds from private foundations and trusts. The acquisitions were made possible by contributions from the Hjalmar and Anna Wicander Foundation.
Inventory number
Jeremiah Meyer, A Boy In Blue Coat, 1780s, NMB 2737
Ozias Humphry, Portrait of Suliman Aga Le Luna, 1782, NMB 2747
John Cox Dillman Engleheart, The Barker Family, NMB 2743