Russia's war in Ukraine is shaking the entire world and having an impact on every level. The conflict has many facets, with people fleeing, being injured and dying. Cities are being bombed and devastated, and museums and cultural heritage buildings are burning. Susanna Pettersson, Director General, talks about the threat to the Ukrainian cultural heritage.
Nationalmuseum has signed the Council of the Swedish National Museums' statement condemning the invasion of Ukraine, and strongly urges Russia to respect UNESCO's 1954 Hague Convention for the Protection of Cultural Property in the Event of Armed Conflict. The Convention was ratified after the Second World War, to guarantee that the world would not repeat the same mistakes. If the cultural heritage is destroyed, it is impossible to recover it.

Some days ago, I called my fellow museum director in Lviv. We talked about the museum's need to evacuate its collections. During the Second World War, the most valuable works were transported out of conflict areas by train and lorry. Today, the situation is different. In Ukraine there is time to evacuate on site, but time is of the essence. Many museums are doing their best to support the museums in Ukraine. For example, Polish museum colleagues are providing materials, and offering to take in the families of Ukrainian museum workers. We, too, at Sweden's Nationalmuseum are helping museums in Lviv with materials and other necessities.

Ukraine has unique museums with extensive collections, palaces, monuments, memorial sites and churches that are the nation's and the world's cultural heritage: Aivazovsky National Art Gallery in Feodosia with the world's largest collection of Ivan Aivazovsky's (1817–1900) marine art, more than 400 paintings. The Lviv National Art Gallery has 62,000 pieces in its collections with Ukrainian, Polish, Italian, German, French, Flemish, Dutch, Spanish and other European works. The Museum of Historical Treasures of Kiev has the world's finest collection of Scythian metal and stone objects, and a collection of Ukrainian gold jewellery from the 14th to the 19th centuries, to name just two examples. And there is more. All this is now under threat from the ongoing war.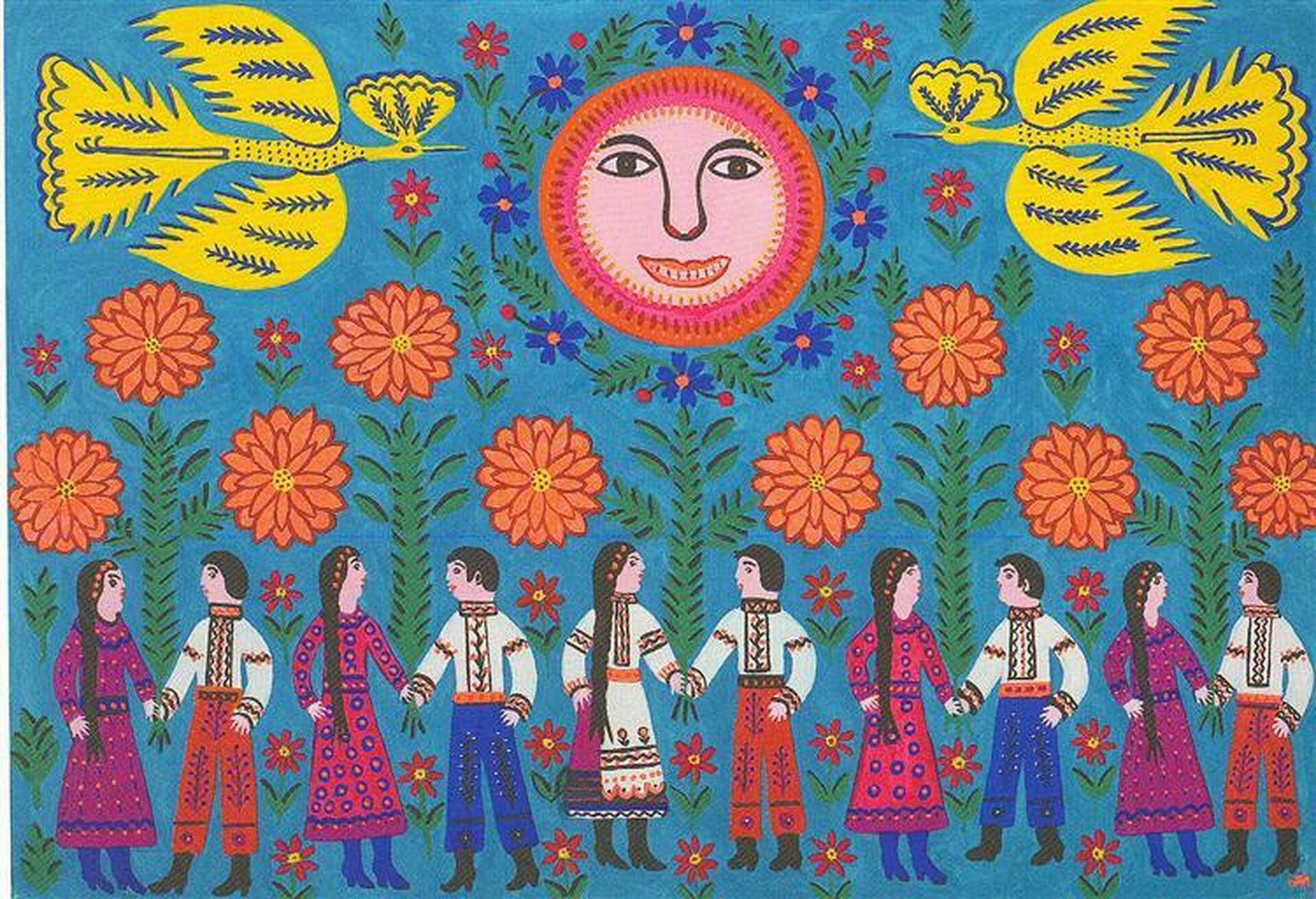 Maria Primachenko, Our Army, Our Protectors. © Maria Primachenko. Image from WikiArt.org
The Ivankiv Historical-Cultural Museum with its archaeological objects, historical material and art collections burned down already on 28 February, along with paintings by Ukrainian folk artist Maria Prymachenko (1909–1997). And in all likelihood, this is just the beginning.

I personally never thought we would experience something like this, to see such unbridled brutality, which can only be condemned.
If you would like to know more, please see:
International Council of Museums (ICOM) statement concerning the Russian invasion
The Swedish Museums Association's joint statement with its Nordic sister organisations in Denmark, Finland, Iceland and Norway
The Mystetskyi Arsenal National Art and Culture Museum Complex in Kyiv has published a list of actions which international museums can use to show their support and solidarity
If you would like to help:
The Nordiska Museet Foundation has created a fund to collect financial help in Sweden and the Nordic region, to save Ukraine's cultural heritage. Fundraising is taking place in close cooperation with the Swedish National Heritage Board, the Council of the Swedish National Museums, and museums in Sweden and the Nordic region.

//Susanna Pettersson, Director General, Nationalmuseum