The model of the 2021 Portrait of Honour is Carl Bildt, a politician and former prime minister of Sweden. The portrait has been painted by Bo Larsson in an illusionistic style that reflects in detail the subject's wide-ranging interests. The portrait joins the collection of the Swedish National Portrait Gallery and is on view at Gripsholm Castle from 2 June 2022.

When Bo Larsson was commissioned to paint a portrait of Carl Bildt, he was concerned as to whether his busy subject would have time to sit for him. Then, "like a gift from above", the coronavirus pandemic hit, online meetings became the norm, and Bildt stayed put in Stockholm. Between them, artist and model decided that Bildt's study was the right setting for the portrait. The entire background is taken up by a bookcase, but not in sharp enough focus for the onlooker to make out the titles. Only one spine reveals anything, but in this case the title is symbolic: "EUROPE", Bildt's main area of interest throughout his political career. On the shelf above, an object with a very specific meaning is visible: a model of the aircraft that was available for Bildt to use in his role as UN High Representative overseeing implementation of the peace agreement in Bosnia and Herzegovina between 1995 and 1997. In front of the bookcase, we can make out a desk covered in papers and a pen. The latter item has several meaningful associations: an instrument for executing political decisions by signing agreements, but also the tool of an author. Bildt is very much a writer-politician with a lifelong gift of self-expression and the ability to view current events in a historical perspective.

The artist has always considered it important for the onlooker to be met with a gaze. In this case, the gaze at first appears sharp, but as the onlooker approaches the portrait, it is transformed into a "good-natured smile". This visual metamorphosis comes as a surprise, adding to the illusion of meeting the subject. The fact that Bildt's glasses are not sitting straight may even enhance the sense of a real-life encounter, in a way that a formally posed portrait in a gilded Gustavian armchair would not.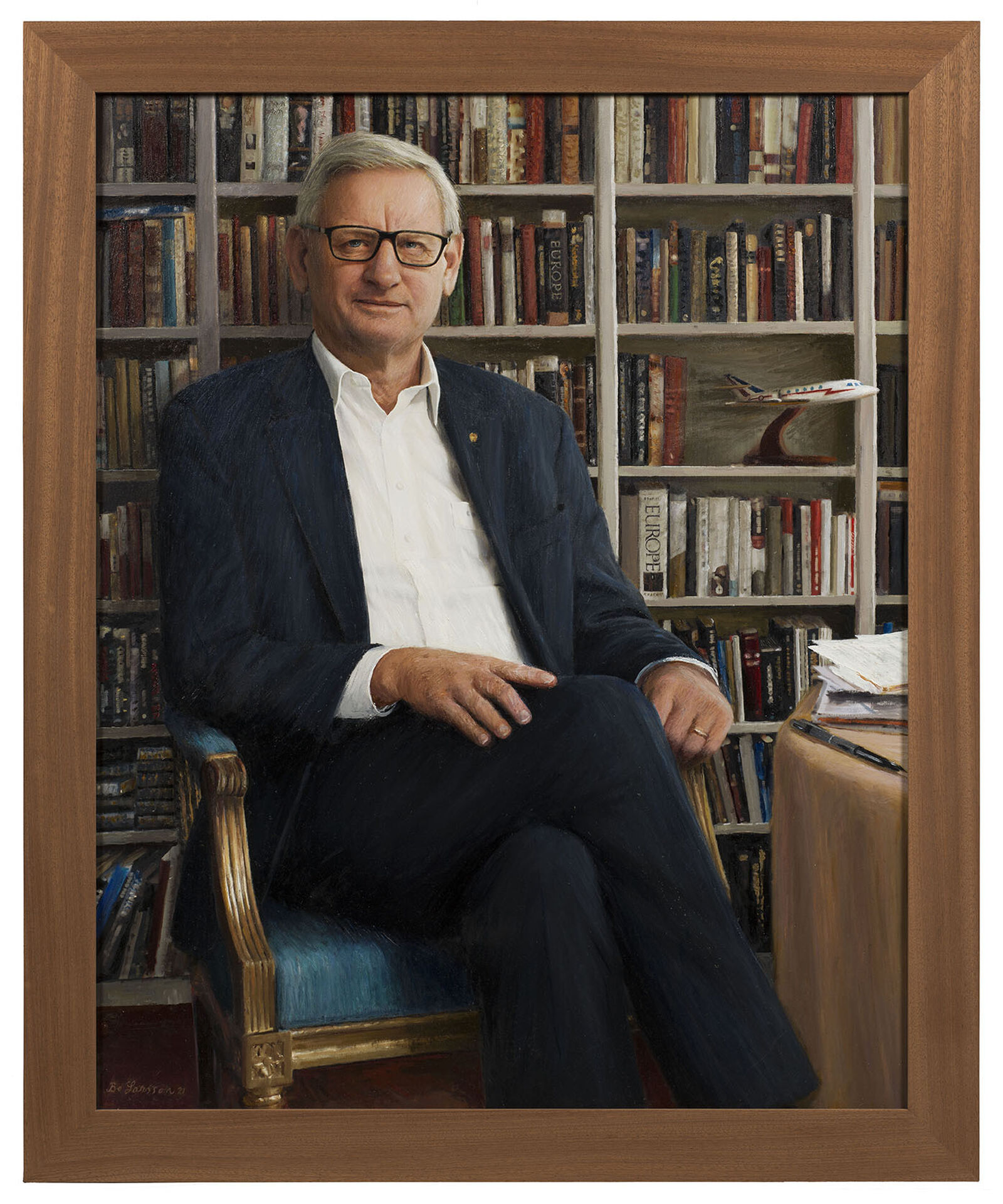 © Bo Larsson: Carl Bildt (born 1949), Prime Minister, Minister for Foreign Affairs, leader of Moderata samlingspartiet, Special Envoy of EU to the war in Yugoslavia, Special Envoy of the Secretary General of UN for the Balkans. Portrait of Honour 2021, Swedish National Portrait Gallery.
Carl Bildt, born 1949 in Halmstad, is one of Sweden's best-known politicians on the international stage. Intense activity has been the hallmark of his career. He emerged at a young age as a precocious talent and made his name in student politics as a member of the Moderate party. He was elected to the Riksdag at the age of 30, becoming Moderate leader seven years later. In 1991, at the age of 42, he became prime minister. After losing the 1994 election, Bildt combined the roles of party leader and EU mediator in the Balkan war. When a peace agreement was signed in Paris in December 1995, he was appointed as UN High Representative to oversee its implementation in Bosnia and Herzegovina. Bildt returned to Swedish domestic politics in 1997 to lead the following year's election campaign, but this proved unsuccessful and he stood down as Moderate party leader in 1999. He was then appointed by UN secretary-general Kofi Annan as Special Representative in the Balkans, a role he held until 2001. He was involved in several international think tanks and served on the board of various Swedish and international companies. In October 2006 he resigned all these positions, having been appointed as foreign minister in the new Swedish government, a post he held until the 2014 election.

Like his foremost political opponent, Olof Palme, Carl Bildt was regarded early on as a controversial figure. Just like Palme, Bildt is a distinctly intellectual politician who sometimes lacks the common touch. He has gained a reputation as a skilful political strategist, while annoying many a journalist with his Teflon-like ability to evade tricky interview situations. He was an early adopter of IT, as symbolised by the historic email message he sent to President Bill Clinton as prime minister in 1994. He was likewise an early convert to blogging and social media.

Now over 70, Bildt shows no inclination to scale back his participation in the political arena. He remains an internationally respected thinker on foreign and security policy. In 2019 he published an incisive book analysing the global situation entitled Den nya oredans tid ('The New Era of Disorder').

The portrait is a painting by Bo Larsson. Born 1945 in Sala, the artist has called Stockholm home since the age of five. The Swedish capital has long been his main motif in works ranging from panoramic views to domestic scenes from his own studio. Larsson completed his studies at the Royal Institute of Art in 1972 and can be described as a figurative artist. He has always been an artist with a lyrical-picturesque vein who makes skilled use of light, but over the years he has increasingly used photography as an aid, especially in his portrait work, well aware of its possibilities and limitations. Larsson has never been content to treat art as mere reproduction, preferring to combine working material ad infinitum, like a collage. He alternates this with regular sittings with the model in front of the easel to make adjustments and additions. Overall, this process has enhanced the illusionistic character of his portraits over the years.

This year marks the bicentenary of the Swedish National Portrait Gallery, the world's oldest national portrait gallery. Founded in 1822, it is now managed by Nationalmuseum. Since 1959, a number of works are added to the collection each year, including an annual Portrait of Honour, donated by the Gripsholm Association, depicting a distinguished Swedish citizen. The Gripsholm Association was founded in 1937 to promote the holdings and collection of Gripsholm Castle and its improvement.

Owing to the coronavirus pandemic, the 2021 Portrait of Honour has been delayed until this year. The portrait is on view at Gripsholm Castle from 2 June 2022.