The 2023 Portrait of Honour depicts the geneticist and Nobel laureate Svante Pääbo. Painted in oil on canvas by Sixten Sandra Österberg, the portrait joins the collection of the Swedish National Portrait Gallery and will be unveiled at Gripsholm Castle on 28 October.
Svante Pääbo (born 1955) has long been one of Sweden's most prominent and internationally renowned scientists. A specialist in evolutionary genetics, he has been involved in groundbreaking discoveries regarding the history of human evolution. In 2007, Pääbo was named as one of the world's most influential people by
Time
magazine, and in late 2022 he was awarded the Nobel Prize in Physiology or Medicine "for his discoveries concerning the genomes of extinct hominins and human evolution". Through his research, Pääbo seeks to answer the question of why Homo sapiens, rather than Neanderthals or one of the other early human species, spread around the world and eventually developed into the advanced civilisation we know today. In 1999 he became the founding director of the Max Planck Institute for Evolutionary Anthropology in Leipzig, where he continues to pursue his research.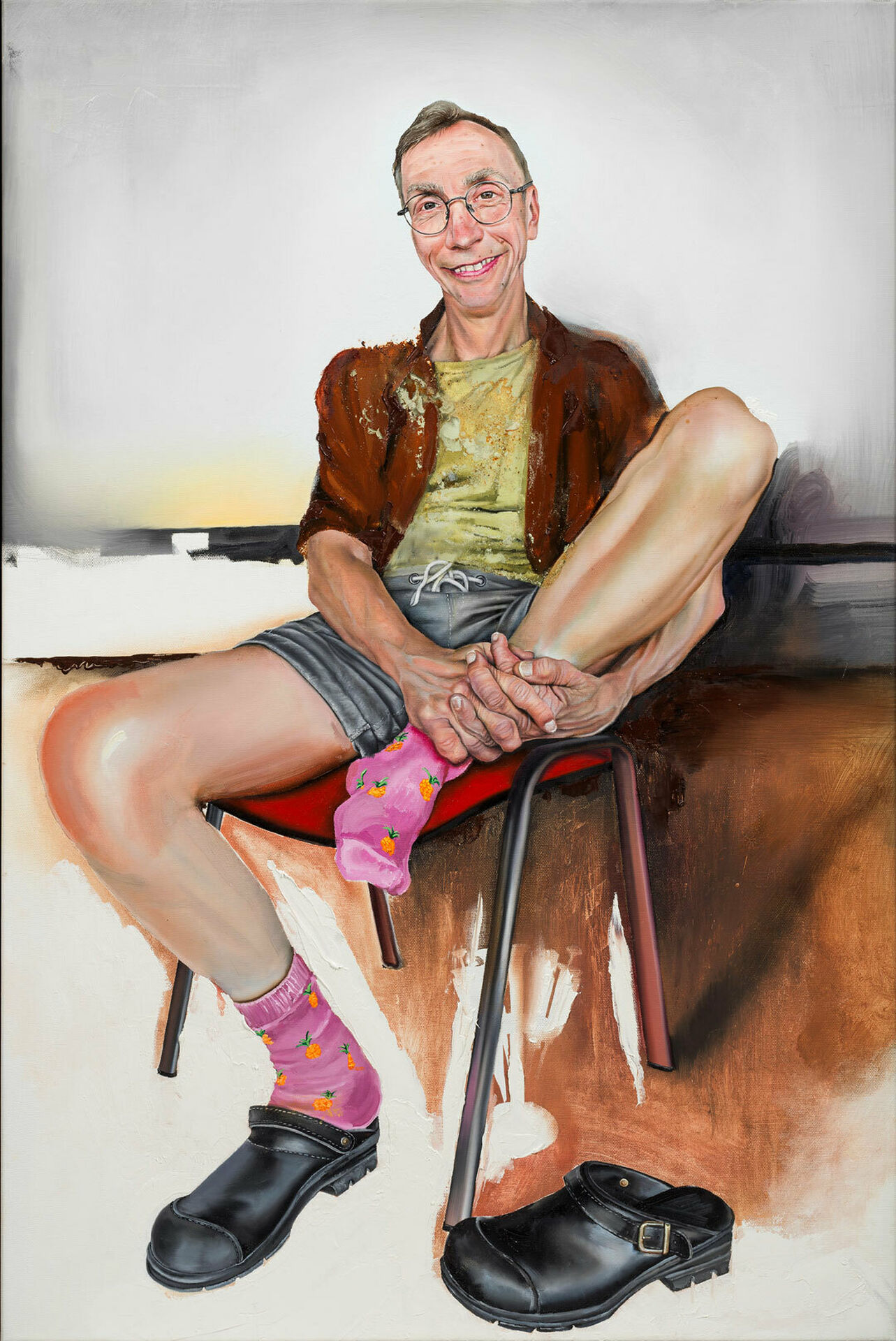 Portrait of Honour 2023: Svante Pääbo by Sixten Sandra Österberg. Oil on canvas.
The portrait of Svante Pääbo has been painted in oil on canvas by Sixten Sandra Österberg (born 1990), who graduated from the Royal Institute of Art in early 2022 and soon won plaudits for a painting style that oscillates between realism and abstraction. Human bodies are usually the main subject of her works. She takes a methodical approach, producing elaborate compositions, while her paintings often create a very immediate impression. Österberg began working on the portrait of Pääbo during a visit to the Max Planck Institute in early summer 2023. She has portrayed him in the setting where he was working – and the clothes he was wearing – when she visited. The portrait is remarkably unconventional and informal, showing Pääbo sitting on a simple stool in a location that is merely hinted at. Laboratory equipment can be discerned in the background. Österberg lives and works in Stockholm, where she has had solo exhibitions at Andréhn-Schiptjenko, Konstnärshuset and CF Hill. She has also taken part in several group exhibitions and is represented in the Moderna Museet collection.

The Swedish National Portrait Gallery at Gripsholm Castle is the world's oldest national portrait gallery. Founded in 1822, it is managed by Nationalmuseum. Since 1959, a number of works are added to the collection each year, including an annual Portrait of Honour, donated by the Gripsholm Association, depicting a distinguished Swedish citizen. The Gripsholm Association was founded in 1937 to promote the holdings and collection of Gripsholm Castle and its improvement.

The portrait will be unveiled on Saturday 28 October at Gripsholm Castle.